HOME BUYERS
Renting vs Buying a Home in 2023: Which is Better Right Now?
Making the jump from renter to becoming a first-time home buyer can feel like a big commitment! While the feeling is real, buying a home can be hugely rewarding both financially and emotionally in the long run.
Here's our advice: Buy a home if you're planning on staying in one place for more than 2 years. Rent if you intend to move frequently in the short term.
Table of Contents:
The Basics
It can be hard to decide whether to rent or buy when it's time to move. There are many pros and cons of renting and buying—so you may find yourself in a situation (financial reasons, personal goals, etc.) where you may lean one way or the other.
You may find yourself in a city or town you're planted in or in a steady job that you plan to keep. If that's the case, homeownership is likely the best option for you!
On the other hand, if you are planning to move to another city, if you have a history of being at jobs for a short amount of time, or if you have poor credit, it may be beneficial to rent instead of purchasing a home.
Treadstone Funding is a renowned mortgage lender in Michigan—we've helped countless first-time home buyers navigate a tricky market and have helped them decide their best path forward. We're here for you!
Is Paying Rent Better Than Buying A House in Michigan?
It's immensely difficult to decide whether to rent vs buy a house in Michigan, but generally, buying a house is better for potential first-time home buyers in the long run due to the stability that it offers.
When you buy a home, your mortgage payment is locked in for the length of the loan— unlike rent. Your monthly rent payment is likely to increase at each lease renewal. For example, between March 2021 and March 2022, rent increased by 13% on average nationally, with some cities seeing much higher price hikes. According to House Canary, the average rent increased in Flint, MI more than 58% between 2021 and 2022! In contrast, once you own a home and prices go up, your associated costs do not rise at the same percentage, those gains instead add to your net worth.
Even with additional loan origination fees and closing costs, the longer you own your home, the more money you'll save!
Better yet, homeowners are statistically more likely to have greater levels of happiness, build stronger families, and be active in their community!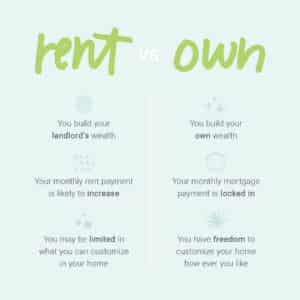 Homeownership: How the Investment Pays Off
One of the major perks of buying a home vs renting is that buying a home becomes an investment. Much like your retirement fund or other financial investments, your home often holds and increases in value over time, which builds your wealth.
Historically, a home's value increases between 4-5% annually, as calculated by the US government. Between 1991 and 2022, the average home in the United States increased in value 4.4% each year. That means if you purchase a home for $250,000, after 10 years, your home could be worth ≈$384,000, netting $134,000 in home value—which is equity that is yours to use if you choose.
Similarly, if you own your home for 30 years with the same historical rate of appreciation, your home could be worth ≈$910,000, although your mortgage payment will stay the same for those 30 years—and at the end you own an asset worth almost a million dollars.  Even homes bought at peak value in 2007 have nearly doubled in value since!
Historically, a home purchased for $100,000 in 1991 would be worth $392,000 in 2022. Feel free to read more about the US government's House Price Index (HPI), or view the most recent HPI report with up-to-date datasets on home appreciation.
Homeowners also build wealth by paying down their loan. When you pay your loan principal, you get to accrue the money you've spent in the form of home equity (which is the value of your home, minus the remaining loan balance). Homeowners can use this equity in the future with tools such as a cash-out refinance or home equity line of credit. Homeowners who pay off their home, either by paying the loan to the end of the loan term or paying it off early, get to keep their home without monthly mortgage payments! Owning a home with no monthly mortgage payment is an achievable dream for many homeowners—something that renters cannot enjoy.
Owning a home vs renting also allows you to customize your home as you please. You are free to paint and garden, install shelves or new appliances, and even make larger changes like structural additions or remodels. Doing these things can also add value to your home, so it may (quite literally) pay for itself if you do choose to sell your house.
There are also tax benefits when you own a home! These tax deductions are usually taken from your federal & state income taxes. Michigan homeowners can enjoy tax breaks, one of which is the homestead property tax credit. Be sure that you talk to a licensed tax professional for specific tax guidance.
Alternative to Renting or Buying
While homeownership is a great goal to have, sometimes it is not logistically or financially feasible based on where you are in your journey. One alternative to purchasing a home is buying a condo!
Condos come in many forms—not just a retirement-style community. Often, they are the equivalent of purchasing an apartment, except you can own a portion of a building. Purchasable condos might be in a downtown skyscraper, may look like a standard apartment, or could be in the form of a townhouse. Condos (especially in non-major cities) are typically cheaper than single-family homes and may come with unique perks, like pools, gyms, or lawn maintenance.
Keep in mind, association fees are common with condos or townhomes, but are not as common in standalone houses. These monthly or annual fees are typically levied to all association members (as decided by a board, made of association members) to pay for the maintenance of the building, like landscaping, waste pickup, elevators, or parking lots. Association fees could also pay for shared areas of a building or community, like pools, clubhouses, or gyms.
This is a fantastic option for those that may not be able to afford a bigger standalone home or don't have the ability (or time) to take care of external maintenance and repairs, like mowing the lawn or fixing the roof. Purchasing a condo is a great step on the path to owning a home!
Make sure that you also read up on other alternatives to rent or buy a home in Michigan. Here are a few articles about renting vs buying on Reddit:
Buy a Home With $0 Down Payment
If you find yourself still wanting to buy a home even if you do not currently have the finances to do so, don't fret! There are many down payment assistance programs you may qualify for, including loans with a 0% down payment, interest rate buy-downs, and creative loan types. The State of Michigan also has a program for first-time buyers to help save for a down payment!
VA and RD loans are available with 0% down payment, while conventional loans offer as low as 3% down! Treadstone also offers FHA Loans in Michigan, offering down payments as low as 3.5% with flexible qualification requirements.
Are you ready to get started? Treadstone Funding has one of the strongest pre-approvals in Michigan, so contact us to see what kind of home you qualify for. From condos to standard homes, we can help you!
All content for educational purposes only. Not financial advice. Treadstone Funding and its employees are not financial advisors or tax professionals. Please contact a licensed financial advisor and/or tax professional for advice relating to your personal situation.
Not sure if you should continue renting or buy a home? We can help!