COMMUNITY
Best Places to Watch March Madness Games in Grand Rapids
We sports fans know that March Madness will be upon us in no time! Watching the games at home is fine, but nothing beats the electrifying feeling of cheering on your team with a roomful of other fans. We've compiled a list of places that are perfect for doing just that, and you may be able to convince your friends and family to come along for the fun as well! These are our top places to watch March Madness games in Grand Rapids!
The Score is known for its amazing outdoor dining and event area in the summertime, but did you know that the indoor portion of the restaurant is littered with TV's? That makes The Score a great place to score some great food and a delicious cocktail or beer while you watch all the games you want in one place.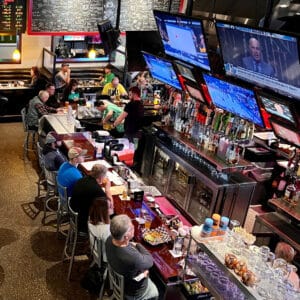 Putt Putt's Bar is one of Grand Rapid's classic bars located on Fulton Street on the West Side. If you're looking to watch the games in a dive bar with great vibes, look no further. In the mood to do some bar hopping between games? Joey's Tavern is another classic place to watch the games, which is a short walk away!
Another Grand Rapids staple to consider for March Madness viewing is The Holiday Bar. You can enjoy the downtown vibes without fighting the downtown crowds. The also feature live music a couple days a week, so you may be able to convince your loved ones that don't have an affinity for basketball to come out for a drink as well!
Looking to have a little extra entertainment while also watching the game? Try House Rules Board Game Lounge! This is a bar that features endless available games. You can play some board games with your friends while keeping one eye on the basketball games.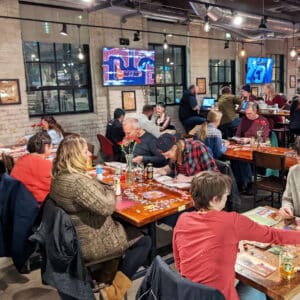 Monelli's in Wyoming is another great spot to catch a game. This bar and restaurant is known for its great Italian cuisine, so you will not go hungry while watching the games here. Monelli's has a great family atmosphere, so bring the kids along to make a day of watching March Madness or sit at the bar and watch their many TVs.
Another great option for something to do while watching the games would be The Pack Indoor Dog Park. They have a bar area where you can order food and drinks and watch the tv while also watching your pups play!
While not a classic sports bar, Atwater Brewing should not be overlooked when selecting where to watch the game. In the heart of downtown Grand Rapids, this brewery is of course known for its beer as well as its food.
Looking for more places to catch the games or grab a bite?

Get ready for March Madness 2023!