Your Local Orchard Guide 2023
8 Best Apple Orchards in Grand Rapids
When you're looking for something to do this fall, consider an orchard. West Michigan has no shortage of farms and orchards, each with their own special touch.
Many of the orchards in Grand Rapids listed below feature everything from apple cider donuts, to U-pick apple picking, to cider mills. It's apple season!
For other festivities and fall events in West Michigan, check out our guide below!
The Best Apple Orchards Near Grand Rapids
Located Northeast of Grand Rapids, this farm has it all! Apple Season is September and October with hours Friday and Saturday 10-5, and Sunday 12-5. You can pick apples, pumpkins, and sunflowers. They also have a corn maze, sunflower maze that turns into a haunted sunflower maze, creepy Corn Maze, and Spooky Hayrides in October Friday and Saturday 9-11pm. And to top it all off, there's Cherry On Top — their market of delicious baked goods and fresh pre-picked produce!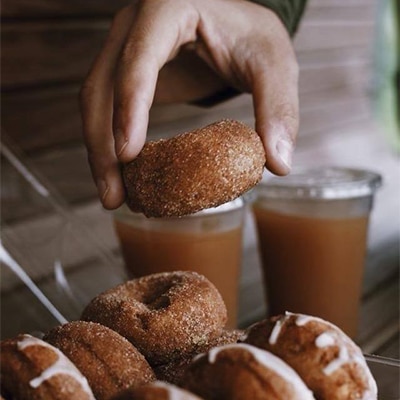 Located in Fennville, Cranes is a staple orchard in West Michigan. They offer a variety of u-pick produce including cherries, peaches, apples, and pumpkins. They have a fun corn maze that is open daily from 10am-6pm as well as hayrides and a cow train available on Saturdays and Sundays from 12-5pm. There is also a pie pantry and restaurant that you can visit to fuel up for all the fun!
Wells Orchards is the spot for produce! While they do not offer U-pick, they have a huge variety of fresh grown fruits and vegetables that can be purchased at the farm itself, at the Grandville Farmer's Market, or the Fulton Street Farmer's Market.
This family-owned orchard offers a giant corn maze, petting farm, pumpkin patch, cow train, and wagon rides — as well as a farm market with all kinds of amazing produce.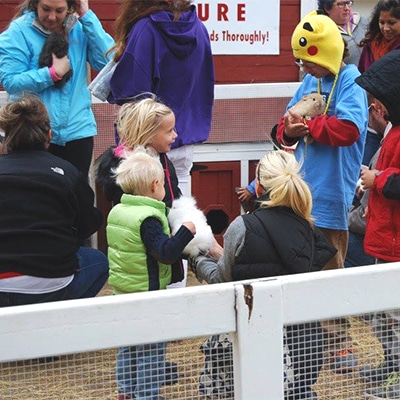 Steffens Orchard offers U-pick apples as well as a great market with handmade items like frozen pies, crocheted goods, jams, local honey, and soap. Bring the kids to Sparta for some snacks and beverages and let them play on the swing set and wooden tractor!
This farm is an amazing spot for all ages. They offer live music most Fridays and Saturdays, a corn maze, full market, restaurant, gift shop complete with a winery & brewery, and tons of fun seasonal events. There's always something exciting going on at Dunneback's!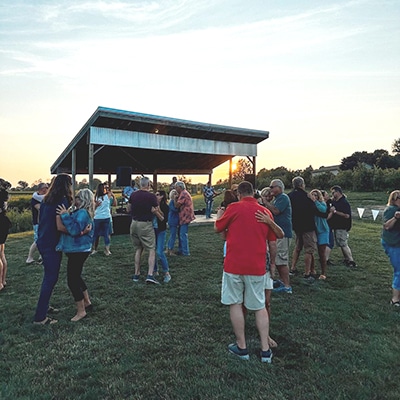 Post Family Farm is overflowing with pumpkins, squash, gourds, and more farm products. Enjoy U-pick pumpkins, hayrides, bonfires, a corn maze, homemade donuts, and more family-friendly fun!
Robinette's is a classic West Michigan fall destination. Take a walk in their huge orchard, pick up some lunch and apple goods at their Apple Haus, try some of their great wine, and enjoy some of their kids' activities like the corn maze, hayrides, petting zoo, jumping pillow, and more!

U-Pick Apples Near Grand Rapids
U-pick is the name that explains itself — you pick the apples yourself! Most orchards will lend you a wagon or bag, while some even drop you off at the tree or variety of your choosing. You'll be charged per weight of the fruit you pick, which is often cheaper than grocery store apples (and more delicious!).
Afterwards, grab a cup of hot cider or take a hayride!
U-Pick Apple Orchards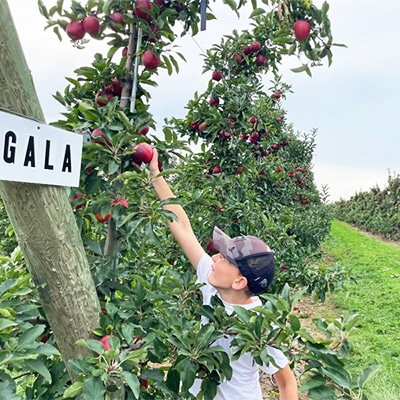 Corn Mazes Near Grand Rapids
Corn mazes and apple orchards go hand-in-hand when it comes to fall fun, especially with friends and family. Any one of the below orchards is bound to have both apples and corn mazes in a one stop shop.
Corn Mazes at Apple Orchards in Michigan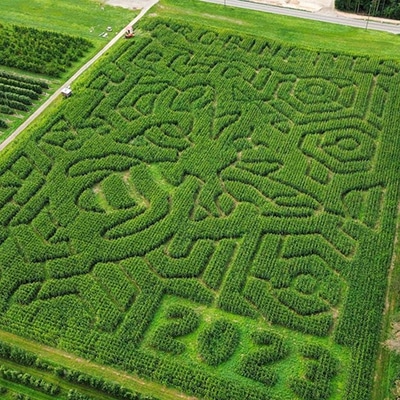 When is Apple Picking Season?
Apple picking season in Grand Rapids runs for a few months, depending on the variety. While some orchards pick from August until the snow flies in late October or November, the most popular time for picking apples and enjoying the fall weather is mid-September to mid-October. Each orchard has a slightly different season. Plus, the end of the season may vary based on weather and demand, so it's best to get out in the field early!
Other Fall Things To Do in Grand Rapids
Don't stop at just apple orchards! Grand Rapids experiences each of the four seasons — it's one of the perks of living in West Michigan.
We've curated a short list of fall activities in Grand Rapids that includes:
More apple orchards
Farmers Markets
Spooky Halloween-themed experiences
Vineyards, wine tasting, and taprooms
If you're looking for more activities in Grand Rapids, check out the best Grand Rapids has to offer or explore other areas of West Michigan.
West Michigan has no shortage of farms & orchards, each with their own special touch.