COMMUNITY
Dog-Friendly Things to Do in West Michigan
Fun places to take your dog in Grand Rapids
Spending time with your favorite furry friend doesn't have to be a copy and paste experience day in and day out. Sure, a game of fetch in your own backyard is fun and a walk around your neighborhood is great exercise for both you and your dog, but Grand Rapids and the surrounding areas offer a slew of other dog-friendly activities to explore! Whether you head to a dog park in Grand Rapids or you're on the hunt for dog-friendly restaurants to dine at with your pet, this list has a little something for every dog lover!
The Best Pet-Friendly Restaurants in West Michigan
Outside Coffee Company: The folks at Outside Coffee Company (and Woosah Outfitters) are huge pet lovers! Treat your pup to a Doggo Latte with bone broth, pumpkin and whipped cream, and enjoy the great outdoors together in Outside Coffee's beautiful garden. They also have a location in Saugatuck!
Farmhaus Cider Co: Head on over to Hudsonville and bring your dog along for the trip to Farmhaus Cider Co. You can attend a variety of events throughout the year, visit the tap room, grab a bite to eat, and do it all with your (leashed) furry friend as long as you stay outside.
Big Bob's Pizza: Dubbed the "Cheers" of East Grand Rapids, Big Bob's is located in the heart of Gaslight Village and specializes in signature pizzas. The restaurant, which offers local craft beers on tap, has a dog-friendly outdoor seating area, so you and your pet can split a slice — just don't share a beer.
The Mitten Brewing Company: For your fetch-loving friend, this baseball-themed brewery is the spot to be — as long as you're dining outside, that is. And while its namesake is that of the cured meat variety rather than canine origins, the westerdog pizza begs to be shared between man and beast.
St. Julian Winery – Rockford Tasting Room: Wine tasting would be so much better if you could bring your dog, wouldn't it? At the St. Julian Winery Rockford Tasting Room, your dog is welcome to join you on the patio while you sip and socialize.
Sweetwaters Coffee & Tea: If your dog insists on a morning walk before you've even had the chance to slurp down a cup of joe, you and your pup can head to Sweetwaters and sip your coffee at one of their outdoor tables.
Grand Rapids Garage Bar & Grill: In the mood for a good burger, some craft beer, and live music, but you don't want to leave your dog behind? You can grab a bite and a brew at the Garage Bar & Grill and bring your furry companion along to sit at one of the outdoor tables.
Furniture City Creamery: Level up your pet's next pup cup and stop by Furniture City Creamery in the Uptown neighborhood. Instead of just a cup of whipped cream, your doggo can enjoy some tongue-smacking, all-natural, peanut butter banana-flavored frozen yogurt.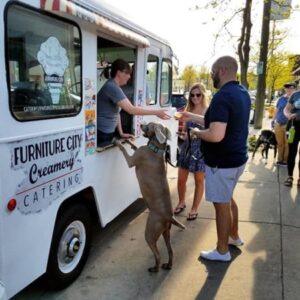 Dog-Friendly Shops and Businesses
Chow Hound Pet Supplies: Petco and Petsmart aren't the only dog-friendly stores around in Grand Rapids. Chow Hound Pet Supplies is the biggest family-owned specialty pet store chain in West Michigan, offering everything from toys and food to grooming and training services.
Must Love Dogs: This pet boutique, located in Grand Haven, offers everything from pet treats and toys, to housewares and gifts for the pet-lover in your life.
Tanger Outlets: This outdoor mall in Byron Center is a great place to explore and shop! Your leashed dogs are  welcome to join you in the common areas, and some select stores.
Alger Hardware & Rental: If you need to bring your dog along to the hardware store, Alger Hardware is a great local option. Ace Hardware and Home Depot also allow your furry friends to join as you complete your errands.
Fido & Stitch: If you want to take your dog to a store designed just for them, Fido and Stitch is that store. Spoil your furbaby with a new toy or treat and help yourself to the self-service dog washing or grooming services if you really want to pamper them.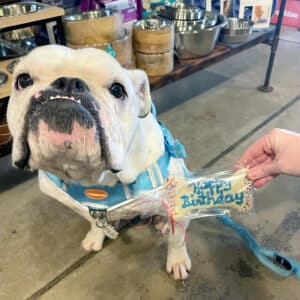 Dog-Friendly Parks & Dog Parks in Grand Rapids
Grand Haven City Beach: Do you like long walks on the beach — with your canine companion? Just a 45-minute drive from Grand Rapids, Grand Haven City Beach is one of the best dog-friendly beaches in the state. Swim alongside your doggie paddling pal in the waters of Lake Michigan and play fetch on the sand. You're both bound to have a good night's sleep after a day at the beach.
Cascade Dog Park: If you're worried about your pint-sized pooch interacting with bigger dogs, you can rest assured at Cascade Dog Park, where there are separate spaces for large and small dogs. There are also plenty of trails to explore, a running fountain, and plenty of shade to keep cool during the warmer months.
Shaggy Pines Dog Park: Looking for an elite dog park to take your furry friend to? Shaggy Pines is ranked as one of the ten best dog parks in North America. It sprawls 20 acres (15 of which are totally fenced in) of wide open spaces, woods, and rolling hills. For dogs devoted to digging, the park has a giant sand hill and a man-made swimming pond to cool off in (digging is hard work, after all). If your pup still needs to be cleaned up before leaving the park, you'll find self-serve dog wash tubs and drying areas. Naturally, a dog park of this stature doesn't allow any old Fido off the street to come play. All dogs have to undergo a behavioral evaluation and be completely up-to-date on their shots before visiting Shaggy Pines.
Rockford Dog Park: If you're in the Rockford area, this dog park is located near the river and is just a quick walk from downtown Rockford. There are fenced-in areas with separate spaces for large and small dogs and plenty of room for dogs to play and socialize.
Blandford Nature Center: If dog parks aren't your thing, check out Blandford Nature Center! With 264 acres to explore, it's a great place to het some of your pups energy out while you both enjoy the great outdoors. Dogs are allowed everywhere except for their Wildlife trail and inside of buildings, and they must be leashed at all times.
The Pack Indoor Dog Park, Restaurant and Bar: Located in Comstock Park, The Pack is not your average dog park. Order some food, have a drink, and watch your dog play with other dogs and staff members at the indoor facility. Visitors can pay for a five-visit pass or enroll in a membership for a monthly fee.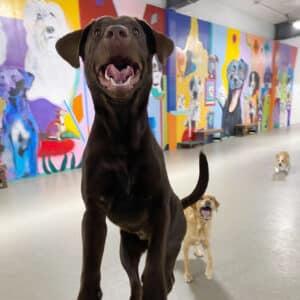 Dog Ownership Etiquette
If you're going to take your dog outside your own four walls, there are some simple common courtesies to abide by.
Clean up your dog's business (scoop the poop!)
Keep your dog on a leash
Try to keep your dog from barking
Don't let your dog greet strangers unless they ask to be approached
If you plan on taking your dog somewhere, call ahead to make sure there is enough capacity for your visit
Looking for More Dog Friendly Locations?
Nature of the Dog, a Boarding and Daycare Facility located in Ada, keeps a great list of dog friendly locations on their website! Check it out here!
Who is Treadstone?
As the leading premier local mortgage company in West Michigan, Treadstone is committed to best-in-class customer service, on-time closings, and proactive communication. When you visit our office, you'll be welcomed by staff who genuinely care about you and want to know you by name. Plus, you may be greeted by our one of our many office dogs too!
Don't leave your pup at home! Check out these dog friendly places to bring them!