Home buyers
Why Pre-Approvals for Mortgages are Important for Home Buyers in 2023
What Is a Pre-Approval?
Pre-approvals are simple and easy, but they're a heavy-hitter when you're shopping for Michigan homes. Simply put, a pre-approval is when we check (and double-check) your qualifications for a potential home loan, and give you the green light to move forward with a home purchase. No more guessing!
During the pre-approval process, your income, credit, and assets are all checked, and you receive a letter stating you are "qualified" and able to take on a new home loan. All you have to do is submit your documents to your Loan Officer, and we'll do the rest!
When placing an offer on a home, especially in a seller's market, you'll need to have the strongest offer possible—that means backing it up with proof of funding. No offer is truly complete without a solid pre-approval.
What Makes a Pre-Approval From Treadstone Different?
Our Loan Officers are what make Treadstone's pre-approvals for mortgages different. Why? Well, they're superstars. Our Loan Officers will work with you each step of the way to maximize your buying power and establish a reasonable budget for you. This is just the beginning of all the awesome things we do for our clients.
The Michigan housing market knows our name, too. Relationships are everything to us, and the Realtors we work with know it. When a selling agent receives a Treadstone pre-approval, they already know the quality of communication and service that comes with it (spoiler: it's pretty great).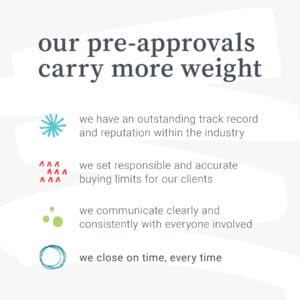 How Does a Pre-Approval Benefit Your Home Purchase?
With proof of funds and loan eligibility, your offer is stronger! In a stack of competing offers, the offer that is most likely to close quickly and on time is the winner. A pre-approval from Treadstone does just that— assures the selling agent that you are well-qualified and ready to close on time, without hiccups.
The selling agents we often work with consider Treadstone's pre-approval "as good as cash."
Pre-Approval vs Pre-Qualification
Both pre-approvals and pre-qualifications have similar jobs; they tell you (the buyer) how much you can spend on a house. They are completely different, though.
Pre-qualifications are a simple math equation that spits out a general ballpark of what price range to expect. You enter your income and debt, and the estimated price is given back to you. That's about it. Anyone can do it.
A pre-approval is an in-depth look into your income, assets, and credit—the same thing we do later in the loan. Our licensed Michigan Loan Officers work with their teams to ensure you are financially able to take on a home loan, before giving you a pre-approval letter for you to use while house hunting.
How Do I Get a Pre-Approval for a Mortgage?
This is an easy one! Get in contact with one of our licensed Loan Officers! They'll give you all the information and resources you need to hit the ground running. And the best part is, our pre-approvals are free!
When Should I Get Pre-Approved?
Even if you're planning to buy next year, you should contact your Loan Officer now to see where your finances stand and make sure that they meet lending requirements. If they do not, we can put together a game plan, so you are ready to buy when the time comes. Having an up-to-date pre-approval will give you and your real estate agent confidence in your financing options when looking at and offering on a home.
How Long Are Pre-Approvals Good For?
Pre-approvals for mortgages are usually valid for 90-120 days. Don't sweat, if your pre-approval expires, your Loan Officer will get you a new one.
That said, if your financial situation changes at all in that time frame, you will want to contact your Loan Officer right away to ensure that your pre-approval terms are still valid.
Ready to get started?