Housing Market
2022 Millennial Homeowner Trends — More Sales Coming!
Millennials are Taking the Market by Storm
While millennials (aged 26-41) were slower to buy their first home than previous generations, it's no secret that they are currently taking over the housing market. Millennials account for 43% of all home buyers so far in 2022 — more than any other generation.
Like previous generations, millennials value home ownership for the opportunities it provides for them to put down roots, to be part of a community, and to be able to build wealth. But this new generation has had to approach home buying differently than ever before. Gone are the days of touring a home and then thinking on the decision for a few days before submitting an offer.
Due to the competitive market over the past few years, millennials have had to rush their decisions and take a number of risks in order to be able to achieve homeownership. From buying homes without stepping foot into them, forgoing inspections, and buying fixer-uppers, to the opposite end of the spectrum of increasing their budgets and offering over asking price.
Going to these great lengths to get their home has left about 80% of millennial homeowners with at least one regret from their first home purchase.
Millennial Homeowners are Moving Up
This leads to the next phase in millennial homeowner trends: moving up.
In a recent study by Coldwell Banker, over 2,000 homeowners of all ages were surveyed in the United States to find out more about their homeownership plans. This survey asked one primary question: Do you plan to sell your home within the next 12 months?
Over a third of millennials answered that they intend to sell their home within the next year. In addition, the survey indicated that 18% of all homeowners plan on selling within the
next year.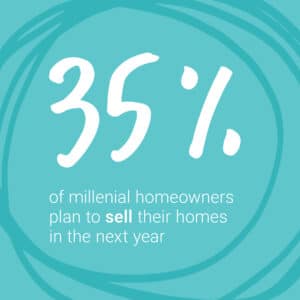 What Does This Mean for the Real Estate Market?
Demand is anticipated to remain strong, if not increase this year. Millennial sellers are the key to unlocking new inventory in 2022, according to Coldwell Banker CEO, Ryan Gorman.
Traditionally, younger homeowners are expected to upgrade their homes — both in price and size. With a strong emphasis on millennial homeowners moving up this year, there may be more opportunities for new first-time home buyers to enter the market, while the demand for relatively higher-end homes may increase.

Are you planning on buying in the next year? 
"Millennial sellers are the key to unlocking new inventory
in 2022"