HOME BUYERS
The Pickleball Craze Hits Real Estate in Michigan
You might start hearing the sound of plastic balls bouncing nearby, or excited neighbors shouting, "get out of the kitchen" (even if they are nowhere near an actual kitchen). Why? It's one of the newest trends in real estate: pickleball courts.
Did you know that having a pickleball court at your home is now considered one of the hottest amenities in the real estate industry? It's true! According to Mauricio Umansky, the CEO and Founder of 'The Agency', a $57 billion global real estate empire, pickleball courts are becoming a must-have feature in residential developments. The influence of pickleball is growing in many ways, and now it's reaching the real estate industry.
What is Pickleball?
What is pickleball, you ask? It's a popular sport that's a combination of tennis, badminton, and ping pong, and it's played on a smaller court with paddles and a plastic ball with holes. The game has been gaining in popularity in recent years, with over 8 million people nationwide playing the sport. As of April, it has been named the fastest growing sport in the US.
Moreover, pickleball is a low-impact sport that is easy to learn and play, which makes it an attractive option for many people looking to be more active. Pickleball is also an incredible social sport (certainly among real estate agents, clients, and other brokers). Overall, pickleball is an excellent way to stay physically active while spending quality time with family and friends.
Treadstone Funding even hosts its very own Pickleball tournament for real estate professionals each summer! If you'd like to join in on the fun, follow us on social media to RSVP when registration opens, or you can become a sponsor by contacting us!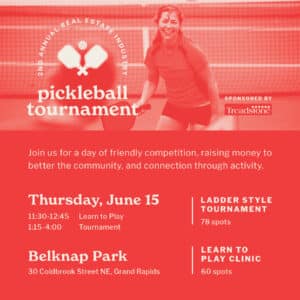 The Rise of Pickleball in Real Estate
Right before our very eyes, we're seeing the shift in sought-after amenities, which is often lead by high-end homebuyers. While these luxury real estate buyers were once looking for traditional amenities, like home theaters and gyms, they are now placing greater value on unique and engaging outdoor activities like pickleball.
Pickleball courts aren't just an upcoming feature in luxury developments, but also the focus of Homeowners Associations building new amenities for neighborhood clubhouses and common spaces. By offering pickleball courts and other recreational amenities, real estate developers can create vibrant communities that promote a healthy and active lifestyle. This, in turn, can attract more homebuyers who are looking for a balance between work and play, and want to be part of a close-knit community.
Additionally, many public tennis courts in Michigan have been converted into pickleball courts, and neighborhoods are improving as a result. These public parks are usually free to play at when weather permits and offer a healthy inexpensive activity to residents.
So, what does this mean for homebuyers? Well, if you're in the market for a luxury home, or a home with a community, you may want to consider a property with pickleball court access, or building a pickleball court on your current property. It could increase the value of your home and make it more attractive to potential buyers down the line. Plus, having a fun and unique amenity like a pickleball court is a great way to entertain friends and family and stay active at the same time.
Where to Play Pickleball in West Michigan
West Michigan has one of the most active and vibrant pickleball communities. The Grand Rapids Pickleball club hosts one of the world's biggest (and possibly the most fun) tournament, the Beer City Open, which has over 800 participants who fly in from all over the country, and offers the chance to win over $100,000 in prizes.
The Grand Rapids Pickleball Club's home base is Belknap Park in Grand Rapids. Belknap Park is just quick hop from downtown and offers over 20 pristine courts and welcomes players of all skill levels. Check out the GRCP schedule for open play and other tournament information!
Looking for more places to play in Grand Rapids? Here are some great options:
Ada Park has 6 outdoor courts
Old Farm Park in Kentwood has 4 outdoor courts
MVP Athletic Club has both indoor and outdoor options so you can play year round, plus a variety of locations around Grand Rapids
For more ideas on where to play check out GRPC's ultimate list of places to get your Pickleball fix! Closer to the lakeshore? Let Lakeshore Pickleball Club be your guide. Holland also has many different leagues to play in and parks with courts.
We're a Mortgage Company Keeping an Eye on Industry Trends
At Treadstone, we know that paying attention to changing trends in the real estate industry is important when shopping for homes. Whether you're a seasoned homeowner or a first-time home buyer, you can count on us to give you a good idea on what's hot in the market.
If you're looking for a luxury home with all the bells and whistles or a community to call home, don't forget to add a pickleball court to your list of must-have amenities. And when it comes time to secure financing for your dream home, we're here to help.
developers can create vibrant communities that promote a healthy lifestyle