COMMUNITY
Our Favorite Rooftops & Patios in Grand Rapids
After a long Winter we all could use a little fresh air and sunshine. Luckily, Summer is on its way and there isn't much that can beat a delicious meal and a refreshing drink on a beautiful patio or rooftop— especially in Michigan! Most of us want to enjoy every minute of the pleasant weather, so we rounded up some of our favorite patios, rooftop bars, and outdoor seating areas in Grand Rapids to enjoy this Summer!
Terra: The farm-to-table restaurant in East Town has a quaint patio where you can enjoy their handcrafted cocktails. Stop by for weekend brunch and enjoy the sunshine.
Knoop: Located inside the Hilton hotel downtown Grand Rapids, this upscale rooftop beer garden offers small bites that are Dutch and German inspired. Enjoy your food with a craft cocktail or beer while overlooking the city from thee 8th floor!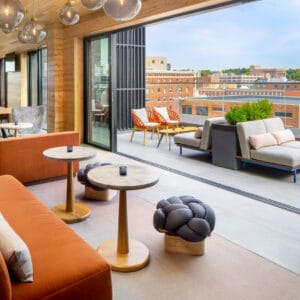 Harmony Brewing Eastown: Known for their wood-fired pizzas and craft beer, Harmony Brewing in Eastown has a perfect patio to grab lunch or dinner while you catch some sun.
Reserve Wine & Food: Offering a cozy second-floor rooftop terrace, you can enjoy their world-class wine list and rotating menu that features locally sourced ingredients!
Mertens Prime: This French restaurant has a stunning rooftop patio located on the top of the former hotel that was built in 1914. Mertens chic rooftop lounge offers unobstructed views of the Grand Rapids skyline where you can enjoy the fresh air and drinks with friends.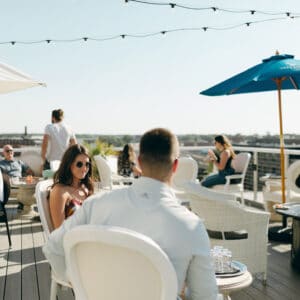 Watermark Country Club: Just outside of downtown Grand Rapids, Watermark country club has an on-site restaurant with sweeping views of the course, plentiful food options, and great drinks. Pair it with a round of golf, and that's a perfect Summer day!
Hancock: This picnic style restaurant specializes in Nashville hot chicken and southern-inspired sides. If you are looking for a casual outside eatery with comfort food and amazing alcoholic slushies, this is the place!
Stellas Lounge: Located downtown Grand Rapids, Stella's is a must visit bar and restaurant. They even have a ton of vegan friendly options! Their patio is covered and adorned with string lights and awesome artwork, so it's the perfect spot to enjoy the warm weather and unwind after a long day. Looking for some deals? Check out their Chronic Hour specials: Monday–Thursday from 4–5:30pm and 9pm–close to save on food and drinks!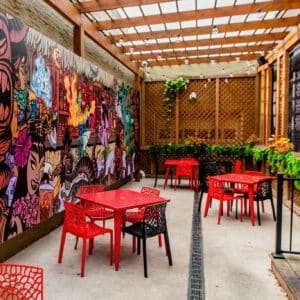 Brewery Vivant: The European-inspired brewery in East Hills is the perfect place to enjoy an awesome craft brew and the outdoors at the same time! The brewery is in an old church, so the décor is one-of-a-kind. Their semi-covered patio features a play set to keep your little ones occupied while you enjoy a cold one.
The Friesian Gastro Pub:  The Fresian Gastro Pub boasts a 20-person patio and a 50-person rooftop deck where you can enjoy drinks, comfort food, and a view of the Medical Mile.
Blue Water: With a large patio overlooking Versluis Lake, Blue Water offers classic American dishes made with fresh ingredients straight from their lake-side garden!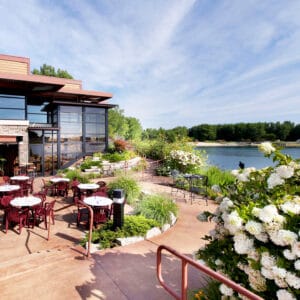 Founders Brewing: A Grand Rapids favorite, nothing says Summer quite like a Founder's beer on their patio. They offer ample seating, ample beer, and occasional live music, so you're sure to have a good time!
Nonna's The Trattoria: One of our favorite spots for classic Italian food! Nonna's is cozy on the inside, and features a large patio to enjoy those sunny days and fresh air!
Jdek at Margaux: Overlooking the Grand River, the J Deck at the JW Marriott is a great place for lunch, dinner, or Sunday funday!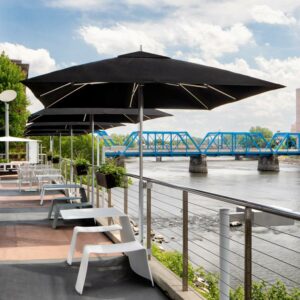 Rockwell Republic Beer Garden: This Grand Rapids fan-favorite restaurant has a secluded patio where they serve their delicious food and even better martinis! Be sure to stop by the patio during their happy hour special to enjoy $7 martinis and half off sushi rolls. *Happy hours! Mon–Fri 3pm to 6pm, Sun–Thurs 10pm to 12am, and Friday–Saturday 10pm to 1:30am | Saturday–Sunday 10am to 3pm.
New Holland Brewing: The outdoor space at the Grand Rapids location of New Holland Brewing is perfect for a fun night with friends. Enjoy their craft beer and cocktails, and play some fun games in their spacious courtyard! 
Paddock Place: The historic mansion in the East Hills neighborhood features an outdoor dining area unlike any other in Grand Rapids. Whether you are looking to enjoy an intimate and delicious dinner outdoors or just get drinks with friends, the patio and lawn really feels like Summer. Featuring global cuisine, craft cocktails, craft beer, wine, and games on the lawn, Paddock Place is a must visit.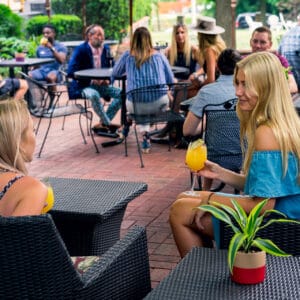 Roses on Reeds Lake: Located in East Grand Rapids, this historic restaurant will not disappoint. Their patio is situated overlooking the serene Reed's Lake, so it's a perfect place for a Summer meal. Go on a weekday or during lunch hours to avoid the dinner rush!
The Green Well: The Green Well always delivers on fresh, exceptional, and unique food. You can enjoy their farm-to-table dishes on their peaceful patio that overlooks a native plant garden.
IDC: On the second floor of the Amway Grand Plaza, the speakeasy themed rooftop patio is a must. With both indoor and outdoor seating, this year-round balcony offers a panoramic view of the city below. They offer craft cocktails and a variety of wines and beer. Be sure to get the code before heading in!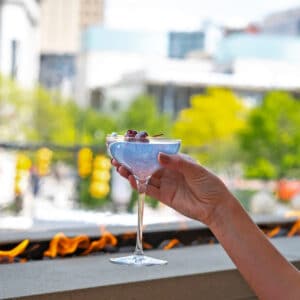 '
Donkey Taqueria: Arguably one of the most popular patios in Grand Rapids, Donkey boasts delicious tacos and fresh margaritas. Their Mexican street food dishes and hip patio make for a great experience—day or night!
The Winchester: With delicious food and hand-crafted cocktails, the Winchester's patio is a must-visit. The Wealthy St. pub features an eclectic patio with bistro lights and exposed brick, and the cuisine is a fresh take on American fare.
Outside Coffee Co: Located in the Wealthy St. District, Outside Coffee Co. has a garden-like outdoor seating area where you can enjoy their specialty coffee. They sell pastries and other treats, so it's a great place to stop before hitting the shops in the area.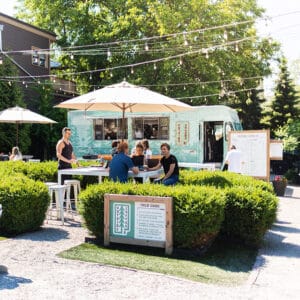 Roam by San Chez:This eclectic restaurant strives to bring street food from around the world to Grand Rapids. You can find dishes from Peru, India, UK, China, and so much more! Stop in to enjoy their patio on Sundays from 10am–4pm for brunch or Tuesday–Thursday for happy hour specials from 3–6pm.
Graydon's Crossing: A globally inspired pub with delicious food and tons of beer options, Gaydon's crossing has a little of everything. The outside seating and daily specials make it a perfect summer stop!
Farmhaus Cider: Located in Hudsonville, this cidery is definitely off the beaten path but so worth the trek. Located on a 150 year old farm, With the majority of the seating outside, it's the perfect place to relax, have a cider (or a flight), and hang out with friends. They have rotating food trucks from the area come and visit for the day, so be sure to check their calendar to catch your favorite!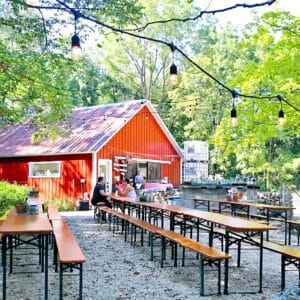 Aperitivo: The wine bar located in the Downtown Market has outdoor seating, so you can enjoy your charcuterie and wine outside!
Butchers Union: If you're on the West Side of GR, stop into Butcher's Union to enjoy their covered courtyard. Open all year round, it's a cozy oasis with a ton of natural light and hanging greenery! It's the perfect spot to feast on some globally inspired fare. They even have happy hour specials Monday–Friday from 4–6pm!
Condado Tacos: Located on the west side of Grand Rapids, right off of Bridge Street, Condado has a private string-light adorned patio to enjoy build-your-own tacos and refreshing margaritas while being surrounded by lively artwork!

Honorable Mention!
Treadstone Rooftop Patio: Our personal favorite summer spot is the 3rd floor rooftop patio at our very office! It overlooks Grand Rapids' Fulton Street and we host occasional happy hours and Summer cookouts for our employees.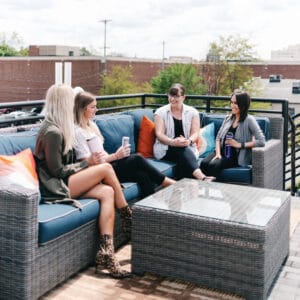 Looking for more places to explore? Check out our city pages!
Luckily, in Grand Rapids, we have the small city feel, with big city amenities!