Top 5 Best Places to See the Michigan Fall Colors
Although we are sad to see the beautiful summer weather go, Michigan fall colors never disappoints. From the Upper Peninsula to your own backyard, the colors will surely take your breath away. Here are some of the best places to take in this season's peak fall foliage!
When Do Leaves Change in Michigan?
Peak fall foliage changes each year in Michigan depending on the weather patterns and seasonal moisture.
In 2023, Michigan's fall colors are supposed to peak in early-to-mid October, with the Upper Peninsula in early October, Traverse City to Midland in Mid-October, and Southern Michigan (Grand Rapids, Detroit, Kalamazoo) around the third week of October.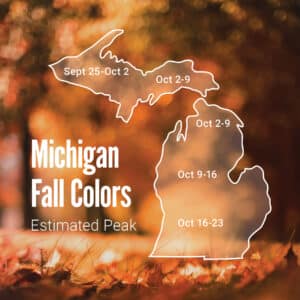 To see where the best spot for Michigan leaf peeping is, check out our guide below.
1. Upper Peninsula Fall Foliage Destinations & Scenic Drives
Did you know the leaves change earlier in Northern Michigan? Take a trip up to Michigan's Upper Peninsula during the first week in October to get a glimpse at the fall colors in all their glory! Pictured Rocks is hands down one of the most beautiful places to take in the Michigan fall foliage—with 40 miles of lakeshore and 100 miles of trails, you can't go wrong. You can also take a ride down scenic US-2 from St. Ignace to Escanaba. This drive is over 150 miles (one-way), you'll drive the north shore of Lake Michigan, crossing bridges and passing through historic town on your fall color tour.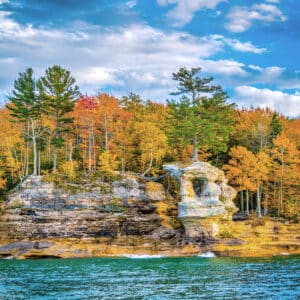 2. Northern Lower Peninsula
Be sure to make you way up north to catch the colors at their peak! Take M-37 north and you'll drive straight through Manistee National Forest on your way to Traverse City. After stopping in Traverse City for a drink at Taproot Cider House, hop on US-31 and head north for the next leg of the trip. You'll drive up the coast right along the Grand Traverse Bay to Charlevoix and continuing north to Petoskey. Bonus: the Tunnel of Trees is a short drive from Petoskey. Just hop on M-119 and drive through Benton Harbor along the coast. You'll find yourself on a beautiful old tree-lined winding road.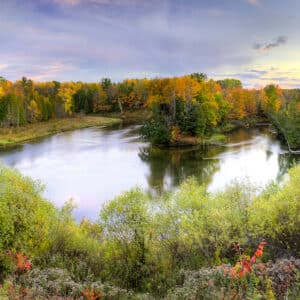 3. The Lake Michigan Loop Fall Foliage Scenic Drive
Mid-October is the perfect time to take this road trip, as the fall colors start peak during the second or third week. To start your journey, hop on US-31 in Muskegon and drive south. This will take you along the shore of Lake Michigan. Stop in Grand Haven for a bite at The Toasted Pickle before you head down through Holland and climb to the top of Mt. Pisgah to take in the views (don't worry, there are stairs, so this climb is easier than it sounds). Next, jump onto I-196 and travel through Saugatuck, before making your way down to South Haven.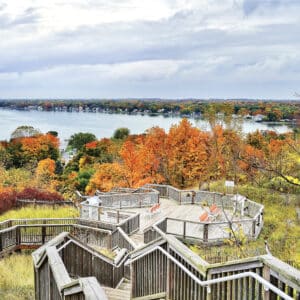 4. The Motor City
Just a few miles from Motown are some of the best places in the world to see the colorful leaves on the trees. The Detroit River International Wildlife Refuge is located on a tiny island on the Detroit River with plenty of trails. You can also stop by the Belle Isle Conservancy, which has over 1,000 acres of colorful park leaves all ready for your viewing. Then drive a couple miles to Grosse Point, where you can see some of Michigan's most historic homes along the way of your fall colors tour.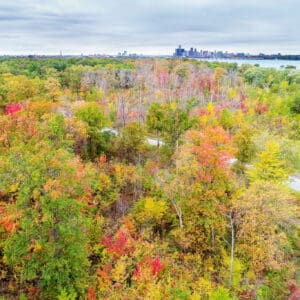 5. In Your Own Backyard
Don't feel like experiencing Mother Nature while belted into your car? One of the best ways to enjoy the colors is to put on your walking shoes and explore your own neighborhood! Take a stroll through a local park and see how many different species of colored trees you can find. If you're in the Grand Rapids or Saugatuck areas, stop by Outside Coffee Co. to warm up while you take in the beauty!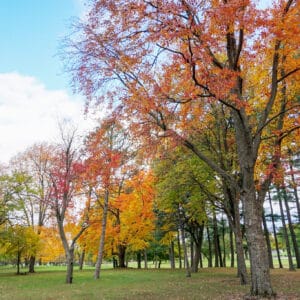 For more ideas on road trips, take a look at the State of Michigan Scenic Byway and Tour map.
For the ultimate guide to Michigan's cities and things to do:
Michigan fall colors never disappoint!