Why Waiting to Buy Could Cost You
Since March 2020, the housing market has changed considerably. Buyer demand coupled with low inventory drove up competition and home values, ushering in questions regarding the stability of the market. As we approach 2022, the reality of a crash has gone unfounded, and would-be buyers who were counting on home prices dropping have yet to see their prediction come true. In the meantime, potential buyers may have missed out on equity gains in their real estate could-have-beens. For those still waiting for the perfect entry into the market wondering "is now the right time to buy a house?" read on to see why waiting to buy could cost you and why now is still a great time to buy!

Home Values over the past 18 months
Despite worries of a market "correction," home prices not only retained their value over the last 18 months, but they continued to gain value steadily. From August 2020 to August 2021, home prices rose an unprecedented 19.9%, making pre-2020 home prices a thing of the past. While this is a historic rate of appreciation and value growth is anticipated to slow in the coming year, waiting for prices to drop will likely end up costing buyers more.

Why Waiting to Buy Could Cost You – Supply & Demand
While some may argue patience is key to getting the best deal on their home without competition, looking at the numbers of new construction versus potential buyers, the ratio is far off. Millennials make up the largest share of homebuyers, and as more continue to age into homeownership, demand is likely to continue to grow. It will take several years for home construction to catch up to demand, and in the meantime, the imbalance of buyers to available single-family homes will continue to drive up prices. There simply aren't enough homes to account for the influx of buyers!
Although the competition has been fierce, and multiple offer situations and bidding wars were commonplace, the market is beginning to see less competition and fewer offers per listing, opening the door for buyers weary of bidding wars. This may be partially due to the natural seasonality of the housing market, but less competition means that it's a great time for those who are on the fence about buying to jump in.

What role do interest rates play in all this?
Historically low interest rates spurred by the pandemic increased buyer demand – and for good reason. Low interest rates grant buyers more purchase power, meaning they can afford more home for the same amount of money. The higher the interest rate, the more costly it is for buyers. That said, interest rates are still in the 3% range, so now is still a great time to buy. Interest rates are predicted to rise, which is part of the reason why waiting to buy could cost you.

What if home values and interest rates increase?
Still asking yourself, "is now the right time to buy a house?" consider this: home values are expected to increase, on average, about 7% in the next year. Combine that with a half a percentage point higher interest rate, and a $325,000 home, now becomes a $350,025 home and the same mortgage scenario (10% down with a 3.6% interest rate) could increase your mortgage payment by close to $200 a month. That is over $2,000 a year and over $70,000 over the life of the loan.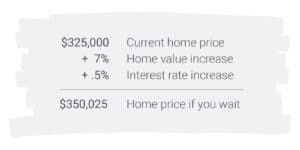 Whether you're a renter wanting to purchase your first home, or a homeowner wanting a new place to meet your needs, now is the time to act. Waiting to buy could incur added costs both to the price of the home and the amount you pay overtime. Take advantage of the low interest rate environment to begin your homeownership journey and watch your home become your biggest wealth accumulating asset. Rising home values means more equity for homeowners over time, so even waiting a year to buy could cost you. To discuss your options or create a path to homeownership, contact us today.
Low interest rates also make now an ideal time to refinance. If you're a homeowner and still haven't taken advantage of the low rates to save money on your mortgage, shorten your term, or utilize some of your home's equity, don't wait any longer! Reach out to one of our Loan Officers today to discuss which refinance program could meet your needs.
*For illustrative purposes only, based on the same mortgage scenario of 10% down with a 3.6% interest rate. Not all applicants may qualify. Not a commitment to lend. Please contact us for an exact quote and more information on fees and terms.
Waiting to buy could incur added costs both to the price of the home and the amount you pay overtime.