The Local's Guide to Moving to Grand Rapids
Finding the right place to live, whether you're looking for a cute starter home or a big family home, is no easy feat these days.  Not to mention, buying a home is a costly commitment, so it's important to find the right place. Grand Rapids is one of those cities that offers something for everyone. Nature-lovers and urbanites alike will find West Michigan the perfect place to call home.
Nestled along the Grand River just east of Lake Michigan, Grand Rapids is a hidden gem with so much to offer its residents and visitors alike. Its stunning natural beauty, vibrant culture, strong sense of community, rich history, and breathtaking scenery, has made Grand Rapids one of the best cities to live in the United States. The city is surrounded by lush greenery, picturesque parks and beautiful lakes; and boasts numerous trails, gardens and outdoor spaces.
8 Reasons to Move to Grand Rapids
Grand Rapids has a population of approximately 196,908 and its attributes make it an attractive destination for individuals and families seeking a high quality of life without breaking the bank.
The housing market might be cooling off a bit, and inflation might be calming down, but it's definitely still taking its toll. With a cost of living 5% below the national average, Grand Rapids is the ideal place to plant your roots if saving money is important to you.
In Grand Rapids, you get the pleasure of experiencing all four seasons. Spring offers mild weather and blooming flowers, summer provides hot days to spend in the water, fall is full of colorful leaves and autumnal activities, and winter wraps you up in cold, snowy splendor. As an added bonus, West Michigan includes a slew of Lake Michigan beaches, parks, outdoor attractions, and entertaining indoor events to boot – so not only can you take in the beauty every season has to offer, you can maximize each one to its full potential!
Pathway to Professional Prosperity
West Michigan is known for big-name companies in the technology, healthcare, manufacturing and education industries, which provide a healthy economy and an abundance of job opportunities to residents. From Meijer headquarters to Spectrum Health to Amway Corporation, the professional opportunities are endless in the Grand Rapids area.
If you're yearning for a family-friendly place to call home, look no further than Grand Rapids. With its rich culture, premium location, quality education, and access to nature, the city is consistently named one of the best places to raise a family in the United States.
Legendary Local Bites and Brews
Mitten-Bred Touchdowns, Slamdunks, Home Runs, and More
From high school and college-level sports to professional leagues, Grand Rapids breeds a passionate sports following, and there are plenty of sports bars, ball fields, stadiums, arenas and sports parks in the area to explore.
Grand Rapids is known for its rich and thriving arts and culture scene. The city is renowned for its numerous museums, including the world-class Grand Rapids Art Museum and the Gerald R. Ford Presidential Museum. ArtPrize, one of the largest art competitions in the world, takes place annually in Grand Rapids, attracting artists and visitors from all over the country. The city also boasts the John Ball Zoo, which offers a variety of events for children, on the west side of the city. Grand Rapids also has a rich history that is proudly showcased throughout the city. Visitors can explore historic sites like the Meyer May House, designed by Frank Lloyd Wright, and learn about the city's heritage at the Grand Rapids Public Museum.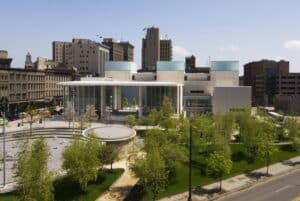 Houses for Sale in Grand Rapids and Where to Live
No matter what type of housing experience you're looking for, you're likely to find something that meets your needs in Grand Rapids. From downtown living to rural farm life, the Grand Rapids housing market is robust. Buyers can explore single-family homes, condos, townhouses, lakefront properties, downtown residences, and both HOA and non-HOA homes.
Cities Near Grand Rapids, Michigan
Grand Haven, Saugatuck, Grandville, Holland and so many other great cities round out West Michigan's excellence, yet Grand Rapids still stands apart.
Like Grand Rapids, Detroit (which is much larger than GR) offers a captivating culture scene, but Detroit is more urban than Grand Rapids and doesn't provide as much access to nature. The Detroit River is accessible for fishing and boating, but is an entirely different experience than the Lake Michigan beaches near Grand Rapids.
Grand Rapids and Chicago are both prominent, distinct cities that teem with arts and culture and burst with unique restaurants and attractions. Chicago is a major globally-recognized city while Grand Rapids offers more of a family-friendly charm.
As Michigan's capitol, Lansing is a bustling city, but is much smaller in size and population than Grand Rapids. Both cities have educational institutions, big-name companies for professionals, and a generally low cost of living, but Grand Rapids arts scene is explosive while Lansing's is still up-and-coming.
Houses for Sale & Apartments for Rent: How to start your move to Grand Rapids 
If Grand Rapids speaks to you and you're looking to make a move, we can help. There are plenty of properties (no matter what your housing needs are) for sale in the area. Whether you're renting or buying, we're happy to recommend a realtor, moving company, rental contacts, and help financing your home.
Open the door to your dream home today! At Treadstone, we offer competitive rates, personalized service, and a smooth borrowing experience. Take the leap towards homeownership and secure your future. Get started now!
Frequently Asked Questions
What is the cost of living in Grand Rapids?
The cost of living in Grand Rapids is generally lower than in other major cities in the U.S. and according to PayScale, it is currently 5% below the national average. Specifically, housing in GR is affordable (15% lower than the national average) and there are plenty of options for budget-friendly dining, shopping, entertainment, and activities.
What's the job market like in Grand Rapids?
The economy in Grand Rapids is constantly growing, and there are employment opportunities in the area across a variety of industries. Some of the largest employers in the area include Mercy Health, Spectrum Health, and Steelcase.
What are the schools like in Grand Rapids?
Whether you're looking for public or private schools, Grand Rapids offers an assortment of top-tier learning institutions for students of all ages. With a diverse student body, the Grand Rapids Public Schools district is the third-largest in the entire state of Michigan.
What's the weather like in Grand Rapids?
Grand Rapids experiences all four seasons, with warm summers and cold winters. While the weather can be unpredictable at times, residents enjoy virtually unlimited access to myriad outdoor activities, from hiking, biking, and swimming in the summer to skiing, ice skating, and snowboarding in the winter.
What area of Michigan is Grand Rapids?
Grand Rapids is located in west central Michigan, about 30 miles east of Lake Michigan.
Is Grand Rapids considered a big city?
Grand Rapids is Michigan's second-largest city with a population just under 200,000.

An attractive destination with a high quality of life without breaking the bank.