Home Buyers
2-1 Buydown Explained: Buy Down Interest Rate in Michigan
2-1 Buydowns are now available for Conventional and Government Loans in Michigan! We love finding new ways to "wow" our clients and get creative with our deals. We're excited to offer this new option for home loans and give a unique advantage to buyers and sellers alike!
TABLE OF CONTENTS:
What is the 2-1 Buydown?
The 2-1 Buydown is an amazing option for Conventional, FHA, RD, and VA government loans, where home buyers pay a discounted mortgage payment, funded by the seller, for the first two years of their loan. In some cases, this may save home buyers hundreds of dollars each month.
Essentially, the buydown is a subsidy for buyers, given to the buyer by the seller or builder.
A 2-1 Buydown may be advantageous for sellers and/or builders interested in receiving additional offers on a home, or they may offer it as a form of seller concessions to incentivize buyers to choose their property over others.
How Does the 2-1 Buydown Work?
In a 2-1 Buydown, both figures indicate a discount on the interest rate, which is 2%, and 1%, respectively. Each rate discount is individually active for one year.
During the first year of the buydown, a 2% discount is applied toward to the buyer's interest rate. In the second year of the loan, a 1% discount is applied toward the buyer's interest rate. After the two-year term has elapsed, the interest rate returns to the original percent for the remainder of the mortgage term.
For example, let's say you buy a home with a 7.5% interest rate on your primary mortgage, and you receive a 2-1 buydown as a seller concession. During your first 12 months, you will only be paying a 5.5% interest rate, making your monthly payment much lower than it would have been originally. After 12 months, your interest rate will increase to 6.5%, and after an additional 12 months (24 months from the beginning of the loan), the interest rate will increase to the original 7.5% for the remainder of the loan.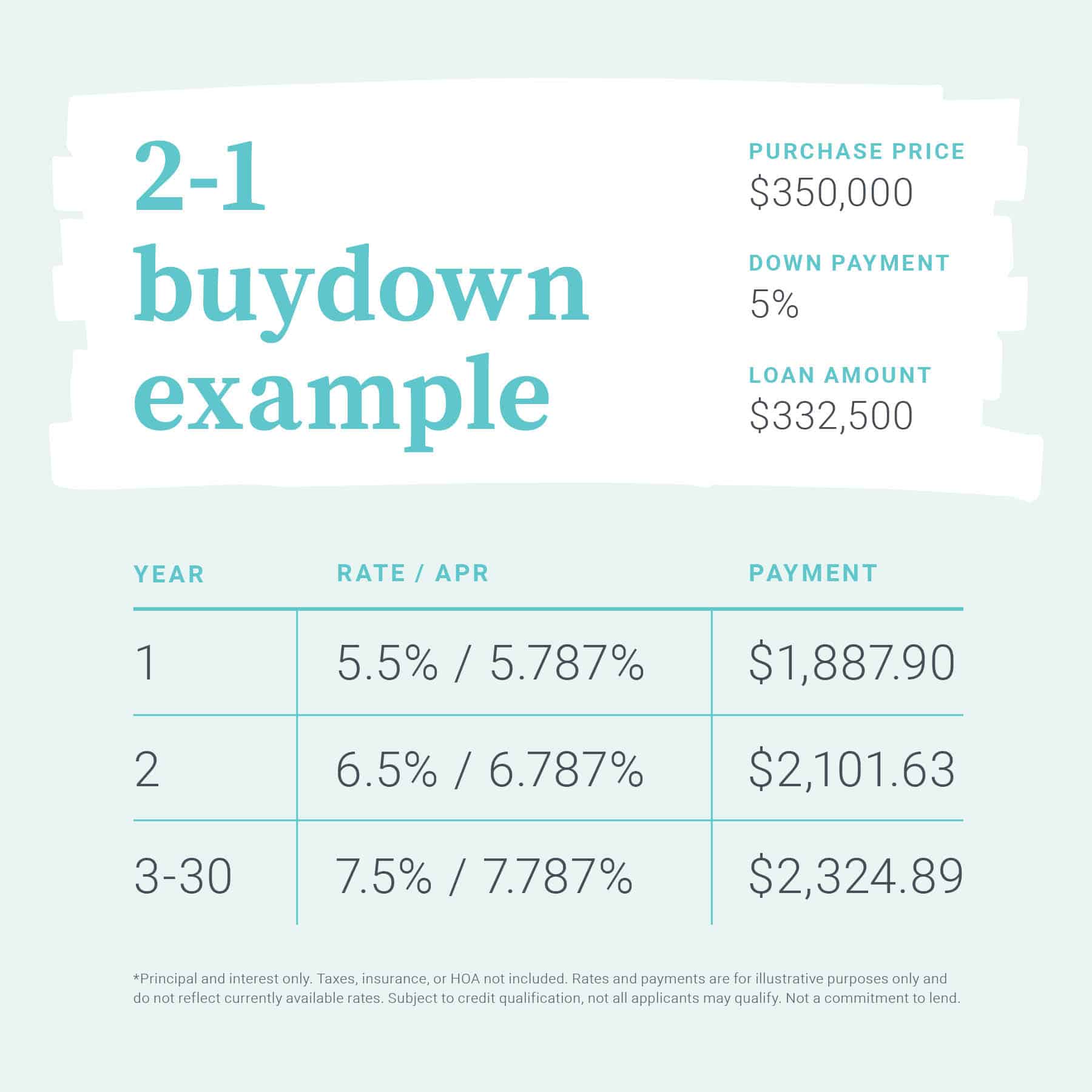 Why is This a Great Option?
Buydowns are great for buyers who would appreciate greater flexibility but are in a position to negotiate concessions. They are great for sellers and builders who want to encourage people to keep buying, and to increase the number of offers on a home (which may increase the selling price).
The 2-1 option gives financial flexibility at the beginning of the loan for buyers to "grow" into their mortgage. While all buyers still need to qualify for the loan in full, the decreased pressure may ease a buyer's transition into their new mortgage, and allow the additional money to be used for furniture, paying down other debts, or making additional payments while the interest is lowered.
Treadstone is happy to offer the 2-1 Buydown for many home purchases in Michigan! Both Freddie Mac and Fannie Mae offer this option on 30-year, fixed-rate home loans, in addition to government home loans, like VA, RD, and FHA.
If you are a first-time home buyer or an existing homeowner looking to buy a new home in Michigan, contact our home loan experts to learn more about mortgage rates and different loan options we offer!
Frequently Asked Questions
How does a 2-1 Buydown work for the seller?
The seller will pay the lender an up-front fee, much like a discount point. This fee is deposited into an escrow account and is paid out monthly to cover the discounted payments made by the buyer, for the length of the buydown. The up-front fee may be ~2-3% of the total loan amount, depending on the purchase price and interest rate.
Why don't sellers just lower the purchase price?
Typically, buying down an interest rate can be cheaper than adjusting the purchase price, and may be more attractive to buyers in need of a short-term break.
Additionally, if buyers choose to make additional payments on the principal balance while the interest rate is lower, a small buydown may amount to significant savings, and quicker equity-building over a 30-year loan.
Is the 2-1 Buydown limited to certain loan programs?
The interest rate buydown is available for Conventional mortgages, as well as government (FHA, VA, RD/USDA) programs.
How does the 2-1 Buydown affect APR vs interest rate?
The 2-1 Buydown only affects the interest rate, which is simply the interest applied to the loan. It does not affect the APR, which is a figure combining the interest rate and other fees associated with a mortgage.
*Rates are for educational purposes only, and do not represent rates offered by Treadstone Funding or Neighborhood Loans. For an accurate, up-to-date quote on mortgage rates, please talk to a licensed Loan Officer.
In some cases,
a 2-1 Buydown may save home buyers hundreds of dollars each month!