COMMUNITY
Kid-Friendly Road Trips from Grand Rapids
Looking for some ideas to get your family our of the house? There are a ton of gems in the Midwest that are perfect for a couple days or a weekend—so you can have a blast with your family without getting on an airplane. Check out some of our top destinations for kid-friendly road trips from Grand Rapids!
Chicago
Chicago is a great weekend destination spot with something to offer to families of all ages! First, the Chicago Color Factory is an amazing experience for kids and adults alike. This destination is an interactive art museum where you can dive into ball pits, weave through a colorful maze, and even toot on horns of color! This unique experience is only a few cities around the world.
Chicago is also home to the famous Shedd Aquarium. This is another great place where you and your children can have an immersive experience. You can watch dolphins soar in the oceanarium, touch stingrays as they glide through the water, and meet a sea otter! This aquarium has so much to offer that you could spend nearly an entire day there.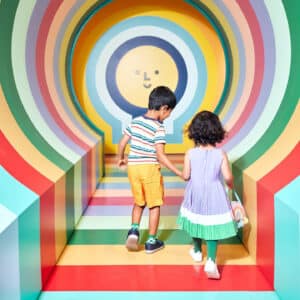 Mackinac Island
If you're looking to get some sunshine and get away from the hustle and bustle of city life, Mackinac Island is the way to go! If you're a Michigander and have not visited Mackinac Island, you are truly missing out. The most iconic thing about Mackinac Island is the lack of vehicles, which are replaced with horse-drawn carriages instead. These provide an amazing and unique opportunity for you and your family to tour Mackinac Island from a carriage. You can see the bustling downtown strip and the stunning Grand Hotel as well as the iconic limestone rock formations in Mackinac Island State Park.
You can also opt to rent a bike and ride it all the way around the island. It is 8.2 miles in total, which is why we recommend this activity for families with older children. This is a great way to get some exercise in the great outdoors while seeing some beautiful places to stop including the British Landing Nature Center, Arch Rock, Cannonball Oasis, and Devil's Kitchen. All of these natural wonders are amazing to see and learn about, so they are definitely worth the long ride.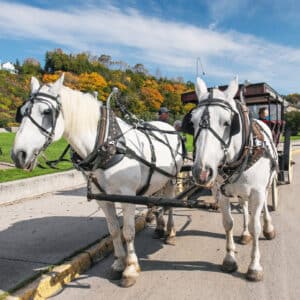 Detroit
Detroit is a city with a lot to offer! Chances are, it has something that will be up your alley. When it comes to keeping your kids engaged, Detroit has some great options. First is the Michigan Science Center is a great stop to make for some educational fun. They have exhibits on things like space, health, motion, STEM, infrastructure, waves and vibrations, and even math! All of their exhibits are interactive, giving you and your children a unique experience.
If you're more of a sporty family, Detroit is the perfect destination to catch a game! This time of year, you can catch a late Pistons game or an early Tigers game. These games have great entertainment to keep the kids engaged between innings or quarters, so get a hot dog and a pop and watch the games happen live!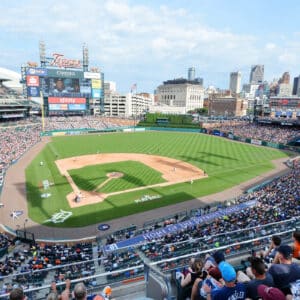 Looking for more ideas for things to keep the kids (or the whole family) entertained?
You can have a blast with your family without getting on an airplane!