April Realtors of the Month — Rachel Mabie &
Justine Hooper
Congratulations to Rachel Mabie & Justine Hooper!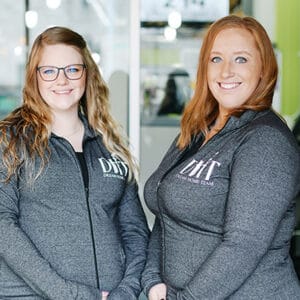 Our April Realtors of the Month, Justine
and Rachel of Bellabay Realty, are
associate brokers and co-founders of the
Dream Home Team. As team leaders, agents, and members of the community
they do everything with an "in it to win it" mentality. They know from personal experience that buying or selling a home
can be stressful, so they strive to make that process as painless and easy as possible
for their clients. From finding listings in a challenging market, to keeping clients informed throughout the process—these ladies get it done.
What sets the Dream Home Team apart is their true sense of teamwork. Everyone on the team is committed to helping each other out in order to best serve their clients. From bouncing ideas off of each other, to stepping up to take client appointments if another member is busy—there's always someone ready to help out.
Both Justine and Rachel know that everyone has a unique story, and they love getting to know each of their clients. Working with clients on a personal level like this allows them to create a custom plan to help the client achieve their real estate goals. They also pride themselves on being a constant resource for their clients from start to finish.
Everybody has
a story in this business!