Winter Activities in Grand Rapids
With winter right around the corner, it can start to feel pretty dreary in West Michigan. But don't fret—there's no shortage of winter activities, events, and things to do in Grand Rapids! It can be a great time to try new things, support local businesses, and (if you feel up to it) getting outside!
Winter Events in Grand Rapids
Fredrik Meijer Garden Christmas & Holiday Traditions: This exhibition honors cultures and holiday traditions from around the world. The exhibition will be running until December 31st. Stop by, stroll, and celebrate diverse cultures!
Christmas Lite Show: November 22nd–December 31st. Visit West Michigan's largest, animated drive-through light show at the LMCU ballpark! Enjoy nearly two miles of Christmas magic with over a million lights, animated displays, lighted tunnels, and more.
Rosa Parks Circle Ice Skating: Starting November 30th and going through February 24th, stop by or reserve your spot to ice skate at Rosa Parks Circle. Adult admission is only $4 and children are $2—and skate rental is included! You can also purchase season passes or punch cards to make the most out of the season.
Uptown Shop Hop: Thursday, December 7th from 3pm–9pm. Explore all that Uptown has to offer! Take a ride on the free trolly through while you shop, eat, make memories, and take in the merriment!
Downtown Tree Lighting: Friday, December 1st from 5–7pm at Rosa Parks Circle. There's no better way to kick off the holiday season than Grand Rapids annual tree lighting ceremony! Free hot chocolate and s'mores will be available to enjoy. During the event there will also be a variety of family activities, arts and crafts, and giveaways by local businesses and organizations.
The Whoville 5k: December 10th from 1-4pm. Dig out your best costumes—this 5k isn't your typical race! Each participant will receive a festive hat and medal, and there will be sweet treats provided! All proceeds will be donated to local charities.
World of Winter Grand Rapids Festival: January 12th–March 10th. Put on by the Downtown Grand Rapids organization, the World of Winter festival is meant to encourage people to enjoy winter in new, unique, and engaging ways. They are offering many events ranging from outdoor fitness classes, art installations, to free walking tours, and much more. Events are offered daily, and everything is free!
Michigan Winter Adventure Race: January 13th at Camp Roger in Rockford. If you're looking for an excuse to get outside and move after a food-filled holiday season, this is your chance! You and your teammate(s) will run on and off trail, navigate with a map, and snowshoe (short loop, snowshoes provided) and conquer amazing challenges, all while collecting as many checkpoints as possible in three hours! Registration includes 1/4 zip pullover ($35 retail), chili lunch and warm lodge after the race!
To explore more winter activities and things to do this holiday season, check out Experience Grand Rapids ultimate list!
Outdoor Things to Do in the Winter in Grand Rapids
For the outdoor enthusiasts, Grand Rapids has just about every Winter activity imaginable all right here! Although Winter makes most of us want to cuddle up inside, sometimes getting outside and enjoying the season for what it is can make it a little easier to get through it.
Visit Cannonsburg Ski Area: Just outside of Grand Rapids, Cannonsburg is a West Michigan favorite in the Winter for veteran snowbunnies and beginners alike. They offer skiing, snowboarding, tubing, hiking and snowshoeing trails, and various events throughout the season, so there is something for everyone to enjoy. Learn more here.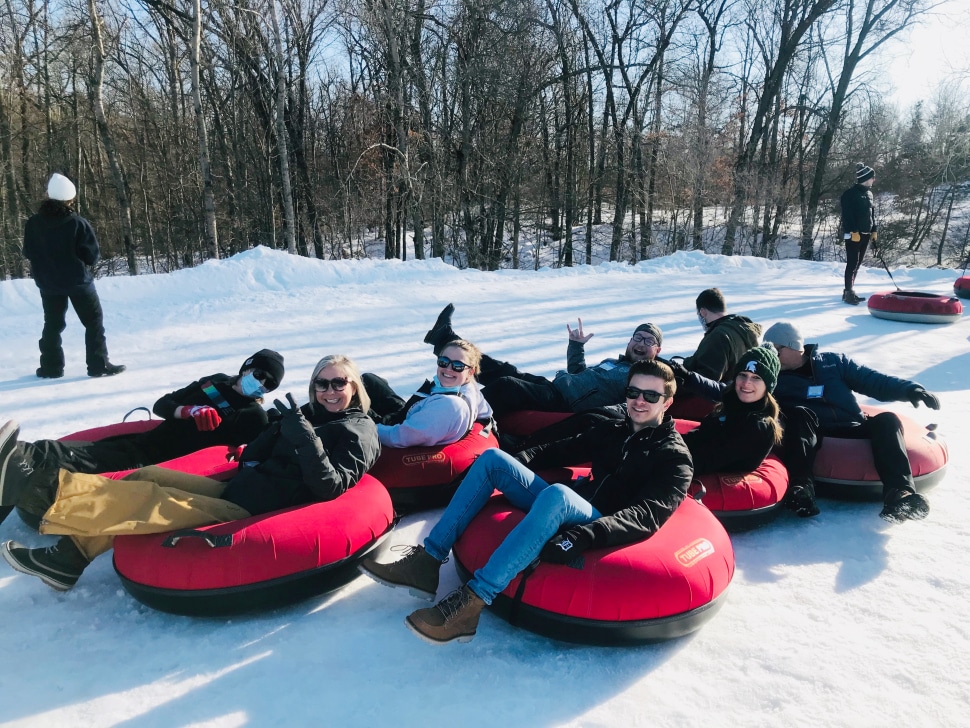 Go Sledding: If you can't avoid the snow, might as well enjoy it! You can find some of Grand Rapids' best sledding at Manhattan Park Sledding Hill, Richmond Park, Belknap Park, Mulick Park, and Mary Waters Park to name a few.
Ice Skating: Stop by Griff's IceHouse, Patterson Ice Rink, or Walker Ice & Fitness to get some skating in!
Visit Blandford Nature Center: The community nature center in Walker offers many fun, interactive events, and programs throughout the Winter season in addition to trails for snowshoeing. For more details, check out their community calendar.
Go on a Walking Tour: Walking tours can be a great way to explore a city in a new way. Even if you're from Grand Rapids, you may learn something new, or gain a new perspective about our city's history! Looking for a place to start? Download the GR Walks app!
Get Cozy with Outdoor Dining: Want to get outside but stay cozy? Grand Rapids has many great spots to get a drink or a bite to eat with heated patios, biergardens, igloos, and outdoor fireplaces. Here are some of our favorites, and you can view a full list here.
Indoor Things to do in the Winter in Grand Rapids
For those of us hoping to avoid the cold as much as we can, you're in luck! Grand Rapids has many options, attractions, and activities that are great for the Winter season and can be enjoyed in the warmth.
Try Candle Making at Wax Poetic Candle Bar: If you're looking for something different, try making your own candle at Wax Poetic! This can be a fun activity to do solo, or with a group at their Mini Bar. Reserve your spot or learn more here.
Try a Paint & Sip Class at Brush Studio: With an array of different paintings to choose from, just find a class that best suits you! They offer adult beverages to help get in the creative spirit!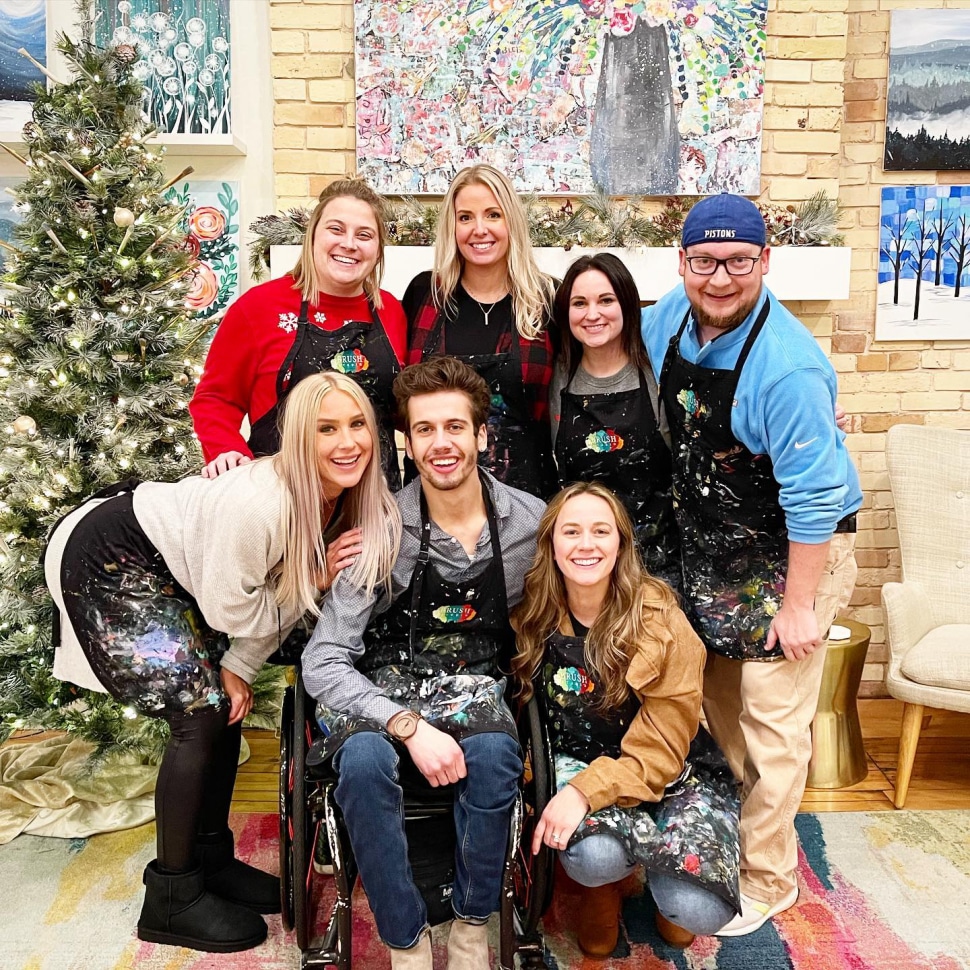 Attend a Grand Rapids Griffins Hockey Game: A Grand Rapids favorite, catching at least Griffin's game throughout the season is one of many must-do winter activities in Grand Rapids! They offer many promotions and themed nights from $2 beer and hot dog nights to '90s Night! View their promotional schedule here.
Plan an Outdoor Brewery Crawl: Just because it is Winter doesn't mean Grand Rapids isn't still Beer City USA! Plan a brewery crawl throughout the city.
Visit the Grand Rapids Art Museum: Get out of the cold and into warmth of creation at the Grand Rapids Art Museum.
Catch a Show: From The Grand Rapids Ballet to The Comedy Project to the Wealthy Street Theater, there's no shortage of shows and cultural events in Grand Rapids to enjoy in throughout the Winter!

If you're looking for Winter activities or something to do this weekend, look no further!