Grand Rapids First Annual Christkindl Markt
The 2023 holiday season is starting off with a bang! The Grand Rapids Downtown Market is introducing a beloved old-world tradition that will have something fun for the whole family—the First Annual Chistkindl Markt.  This holiday market will take place over 26 days, running from November 17 through December 23. The outdoor market will feature artisanal gifts and delectable food, accompanied by live holiday performances and fun activities for the whole family.
What is the Christkindl Markt?
The Christkindl Markt draws inspiration from the renowned Christmas Street markets that first emerged in Germany during the late Middle Ages and spread to various other countries around the world. To create a European ambiance, the outdoor area of the Downtown Market will be converted into a Christmas Village featuring a Bavarian-style beverage hall and over 35 vendors nestled into wooden stalls.
Market Location & Hours
Grand Rapids Downtown Market
435 Ionia Ave SW, Grand Rapids, MI 49503
November 17 – December 23
Wednesday/Thursday: 11:00 AM to 7:00 PM
Friday: 11:00 AM to 9:00 PM
Saturday: 10:00 AM to 9:00 PM
Sunday: 10:00 AM to 7:00 PM
Monday/Tuesday: CLOSED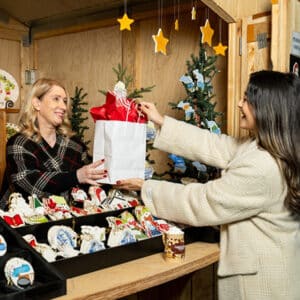 Gifts and Handmade Items Vendors
Winterborn Aplaca – Handmade scarves, socks, mittens, and more
The Market Made – Curated handmade gift items
Heather Lane Pottery – Handmade and painted ceramic items including ornaments
Spice Merchants – Herbal tea, soaps, and bath soaks
Sofra Textiles – European-stye throws, wraps, scarves, and blankets
Leon James – Custom-made novelty socks
Guelaguetza Designs – Authentic handmade Mexican clothing, toys, bags, jewelry, and ceramics
Soap Dude Cosmetics – Handmade soaps, shampoos, balms, lotions, and beard oils
Grayling Ceramics – Rustic pottery and home goods
Baabaazuzu – Wool winter accessories
Phillipp's Craft – Ceramic kitchenware
PaKo Lazo Pottery – Ceramic kitchenware
Paige Soy Candles – Candles and incense
Olive + Indio – Handmade metal and mineral jewelry
Rachel Cielo – Handcrafted clay jewelry
Michigan Nature Co. – Handmade lifestyle and apparel items
Nolie Co. – Stickers, sweatshirts, stationary, cards, notepads, and more
Christmas Nordic Dreams – High quality products from Scandinavia and Baltics
The Spoon Girl – Jewelry and other items made from silverware and up-cycled metal
Lady Barkley's – Dog bandanas, leashes, collars, bows, and holiday gift sets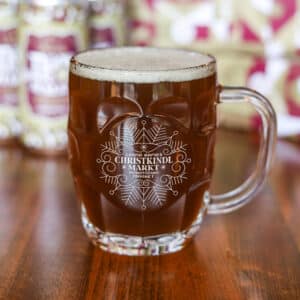 Edible Gift Vendors
Michigan Candy Land – Self-proclaimed "best old fashioned candy in Michigan!"
Chocolate Moonshine Co. – Fudge, sipping chocolate, truffle bars, and s'mores kits
deSoto Confections – Caramelized nuts
Le Macaron French Pastries – Macarons, eclairs, napoleons, chocolates, and more
Food & Drink Vendors
One Stop Coney – Polish dogs, brats, and more
Crepes by the Lake – Sweet and savory crepes
Baked Cheese Haus  – Raclette cheese served over baguettes and brats
Olly's Donuts – Food truck serving mini donuts
Rak Thai – Rotating Menu of soups and bread bowls
Amazing Lights – Handmade Belgian waffles
Bavarian-style beverage hall serving Glühwein, beer, hot chocolate, and hot cider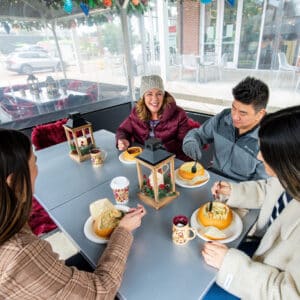 Entertainment
Each day the market is set to feature a variety of entertainment! Daily events will range from visits from Santa & Mrs. Claus, live music, children's activities, and more. Also set up at the market will be curling sheets—get a group together to rent one of the outdoor curling sheets and have some friendly competition.
For more information on the market including curling and private chalet reservations and the full entertainment schedule, visit the Christkindl Markt website here! Or follow along on their Facebook for updates and vendor highlights! 

Downtown Market providing fun for the whole family this holiday season.