COMMUNITY
Top 6 Best Coffee Shops in Grand Rapids for Meeting Friends & Clients
Although Grand Rapids holds the title of, 'Beer City USA' the city also crafts some other exceptional drinks too, such as coffee. The coffee culture is grounded (ha, like our pun?) in community, modernization, and love for both the craft and the people. Grand Rapids' passion for craft coffee is hard to beat. Whether you're meeting with a friend or client, take them to a coffee shop that cares just as much for their clients as you do yours!
Rowster Coffee
You like good coffee, and we have some great coffees – just for you.
Now with three locations, it is hard to live in Grand Rapids and not hear buzz-worthy talk about Rowster Coffee: Rowster's Coffee in the Wealthy Street District, Rower's Club in the thriving Westside, as well as, their latest cafe in Kingma's in Ada, MI.
Which location to visit:
Rower's Club is your best option with its high ceilings and a bright energizing atmosphere filled with plenty of tables to work on or converse around. There is even a sneaky corner, where you can really feel more private with a meeting. But the real focal point is the huge community table along the center of the coffee shop. Fun fact– the community table is a piece from the Mackinac Bridge!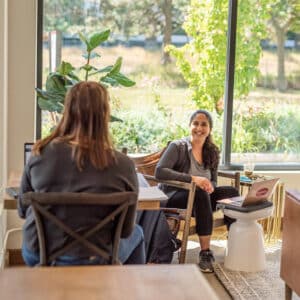 Sparrows
Dedicated to serving coffee with hard work, kindness, and inclusivity.
Sparrows has been around since 2007! They have two locations: Uptown & West Side. Not only do they offer thoroughly crafted coffee and an extensive selection of teas but they have a warm and inviting space where the community can gather! If you visit the Plainfield location, you you can also stop into Kingma's Market!
Which location to visit:
Depends what side of town you are on! The décor is similar at both, cozy and inviting.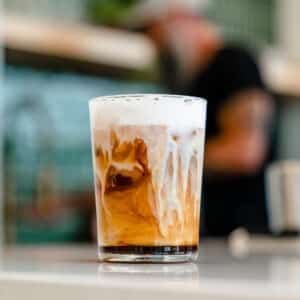 Roots Brew Shop
Come experience our passion in a way that is approachable for all to enjoy!
Roots is just that—their space is very inviting to feel collaborative with those around you. Don't worry, when you visit roots, this doesn't mean you HAVE to chat and get to know those around you. You can have a perfect meeting or work solo too, but Roots just radiates the vibe of community with their repurposed furniture arranged in groups and the conversations heard all around. Oh, and if you are hungry too, they have some of the best bagels and spreads in town. Yeah, we said it. The egg spread to accompany your bagel does not disappoint, nor do their rotating soups!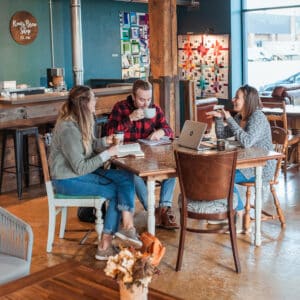 Stovetop Roasters
There's a coffee for everyone. 
Stovetop seeks to build community and share "Specialty Coffee" with folks who maybe haven't tried it before. With a bright and airy space full of whimsical illustrations, Stovetop is an excellent choice to stop by for a meeting or catching up with old friends. They're open every day until 6pm, so you can get your caffeine fix after work too!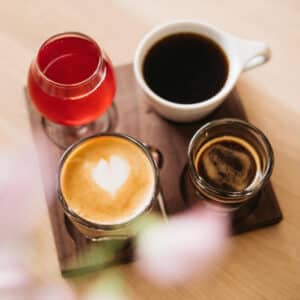 Madcap
We share coffee that is alive and inspires us.
Another coffee shop booming with three locations, Madcap an be found far and wide. Madcap follows a minimalist, yet quality approach to the coffee enjoyment.
Which location to visit:
All of them. Sitting at any one of their three locations is a perfect atmosphere for meeting with a client. Whether you are in the heart of downtown or find yourself in the downtown market, wanting every type of food imaginable at your fingertips or feeling a bit cozier in a nearby neighborhood, Madcap can fit each of these needs.

Lyon Street Cafe
A welcoming neighborhood café providing the highest quality in beverages and baked goods to all who enter our unique establishment!
Upon walking into Lyon St. you are welcomed by a cozy atmosphere and intimate coffee drink creating at your fingertips. Lyon St. Cafe is a great neighborhood destination. We love this spot for later afternoon meetings. Whether you are looking for a coffee drink, or a happy hour drink, they have it all! Don't forget to try their wide variety of sweets.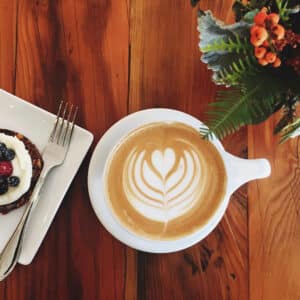 Is coffee not your thing? Check out our guide to the Top Bars for Meetings in Grand Rapids!
From Roots to Madcap, these are our top coffee
shops for business meetings or
catching up!