Top 5 Bars for Business Meetings in Grand Rapids
Do you have a client that you are ready to set up a meeting with but not entirely sure where to take them? We have you covered. We are a mortgage company after all! Taking a client out for drinks is more than just the talk of the hour, you need to bring your client to an impressive, yet relaxing, atmosphere to win them over from the get go. Not only will you impress your client, but they will quickly want to return for another visit (and it is totally okay if you aren't invited next time–yes, these places are that good). Go ahead grab your phone and schedule your next business meeting at one of these five business meeting appropriate bars in Grand Rapids. These are our top five bars for business in Grand Rapids!
Eastern Kille
For the client who likes creative cocktails with local and fresh ingredients, then you must schedule a late afternoon/early evening meeting at Eastern Kille. EK is a small batch distillery with two locations— one in Grand Rapids' North Monroe, and one on Wealthy Street. The distillation set-up is very humble, but the final product is extraordinary, if we say so ourselves. Their cocktails rotate with the seasons with a few mainstays you can always count on. When you order a cocktail, just about everything in the glass is made in house– from the spirit to the bitters, from the ginger beer to the liqueurs, and from the juices to the cordials, Eastern Kille doesn't mess around. With names like The Monet, Plum Gin Fizz, Pina Colada Fumar and Santa Muerte their creative cocktails will leave you wanting more— so grab a bottle of your client's favorite spirit as a thank you to them to take home! They have bar seating as well as tables. Prices are very reasonable.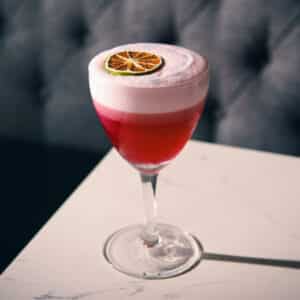 Buffalo Traders Lounge
For the client that loves more of the 60s and 70s Mad Men type of vibe or is craving something different, look no further than Buffalo Traders. Stepping through their doors you will notice deep gorgeous turquoise walls and decor with large high top leather and velvet chairs with fur strung about transporting you to a classy realm of comfort and style. After selecting your choice of seating, you will feel how their leather-bound menu offers an additional sense of class. Opening the menu, you immediately notice a wide selection of old fashioned cocktails that "first sparked the pinnacle of social drinking in the 1920s, as well as classy modern creations that keep this spirit of adventure alive and thriving." The bartenders are happy to walk you through the menu while asking you questions as to what type of taste you are in search for with your drink of choice.
Knoop Rooftop Beer Garden
For the client that loves a view, Knoop is your best bet. Located on the 8th floor of the Canopy hotel, Knoop offers a fantastic view of Grand Rapids from above. When you walk in, the first thing your clients will notice is a wall of blue and white porcelain plates. As you enter the beer garden, it's hard to miss the incredible mid-century modern feel—with wood lined walls, tons of natural light, and a variety of funky lounge type seating. Their menu offers a refined menu of Dutch and German inspired small bites with a modern touch and a selection of craft cocktails. Whether you're sitting at the bar or on the patio, Knoop is sure to impress your clients.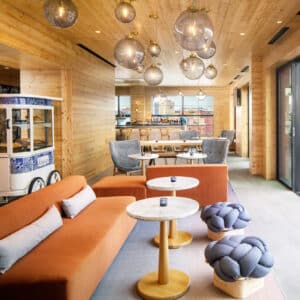 Zeppelin Cocktail Lounge
For the client who likes feeling like they are in their own private bar, the Zeppelin Cocktail Lounge is nestled in New Holland Brewing Company's The Knickerbocker (on the 2nd floor). The Knickerbocker is strategically placed as the gateway to the historical Westside. Walking into the Knickerbocker you will continue your historical journey, passing by art, history, and hand crafted design as you are chaperoned upstairs to the back where you'll find the doors to the Zeppelin Cocktail Lounge. The atmosphere is a little darker, a little quieter and a little cozier than the rest of the establishment, creating the perfect environment to chat business with over in-house made spirits and cocktails made by trained mixologists.
Butcher's Union
For the client who is visiting from out of town, taking them to a place with more offerings than just a drink is probably your best choice. Butcher's Union, located in the booming Westside of Grand Rapids, is a newer restaurant that matches up to any bar offerings in town. Butcher's Union presents itself as providing locally sourced food, inspired cocktails, and an unmatched whiskey collection in Grand Rapids. Their motto says it all, "We exist to create experiences where passion, purpose and a good time come together." And yeah, you are bound to have a great drink and an even better time at Butcher's Union, whether you sit inside or outside.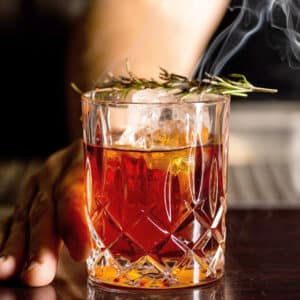 For more amazing bars and restaurants…