Bridge Loans for Michiganders
Bridge loans, explained:
Although we pride ourselves on the fastest closings in the industry – with our Bridge Loan mortgage you won't have to rush. The Treadstone Bridge Loan allows our customers to make an offer on a new home without being rushed to complete the sale of their current home. Also referred to as an equity forward mortgage or swing loan, the bridge loan can provide the down payment for your new home by using the equity in your current home. In many cases, making an offer non-contingent on the sale of your current home increases buying power and gives you flexibility in your homebuying process.
Of course, it's a little more complicated than that, but that's why you are working with us.
What is a bridge loan mortgage?
A bridge loan allows homeowners to use their current home's equity forward to a new home purchase. The funds, sourced from the current home's equity, can be used for closing costs, down payments, and more, to allow you to buy a new home before selling your current home.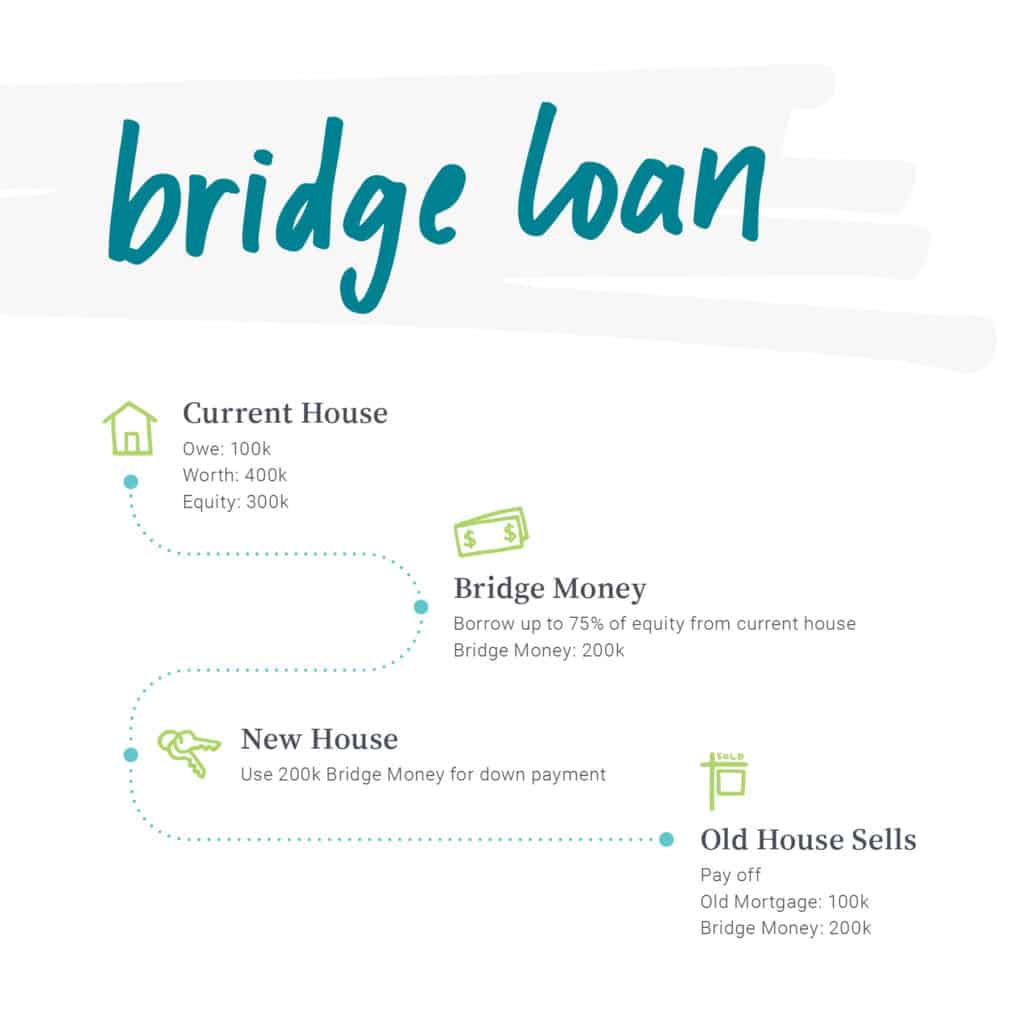 How does it work?
Bridge loans use a short-term loan, borrowing against your current home's equity, to provide funds to pay for the down payment and closing costs of buying a new home, similar to a cash-out refinance. When the current home sells (separate and non-contingent) from the new home, both the original mortgage and the temporary bridge loan are paid off.
Ideally, homeowners would sell their current home before buying the next— however, it is usually not logistically, conveniently, or financially possible. Our bridge loan provides a great solution for those who qualify, and we are proud to be a bridge loan lender!
These loans also allow you to put a larger down payment on the purchase of your new home.
Michigan Bridge Loan Pros, Cons, & Information:
Large down payment for the new home: larger down payments often allow for better interest rates and fees, while removing the need for mortgage insurance,
Non-contingent home purchase: When purchasing your next home, the sale is not reliant on your current home selling first. Contingent home purchases can get messy!
Required Equity: you must have at least 25% in equity to qualify for a bridge loan.
Your Current home must be in the State of Michigan.
What are the costs and limits?
The bridge loan limit is 75% of your current home's equity.
No monthly payments
Full payment due within 90 days after the bridge loan closes
Bridge loan requirements:
At least 25% in home equity
Can often be done without an appraisal if the home is currently listed on the MLS (real estate listing system)
Max term of 90 days
Minimum loan amount $40,000
No payments due within the 90 days (must be paid off in full at the end of the term)
Mortgage on "new home" must be a conventional loan
Ready to Start?
Moving is not easy— especially when moving between houses! Drop us a line, and we'll connect you with a loan officer. They'll make your move easy!
Frequently Asked Questions
What is my home's equity?
Your home's equity is simply your home's value, minus the remaining mortgage balance(s). For example, if your home is worth $300,000, and you have $125,000 remaining on your existing home mortgage, your home has $175,000 in equity!
Do I qualify for a bridge loan?
We wish we could tell you here! You'll have to get in touch with one of our loan officers—they'll give you a straight answer with no pressure.
How long does the bridge loan take?
Treadstone's track record is stellar, with an average of 21 days to close— that's 7 days faster than other lenders in Kent County.
How much can you borrow on a bridge loan?
You can borrow up to 75% of your home's equity, with a minimum of $40,000 borrowed in "bridge" money.