COMMUNITY
Things to Do in West Michigan for St. Patrick's Day 2023
You're in luck if you're spending St. Patrick's Day in West Michigan! From downtown Grand Rapids to the lakeshore, there are endless opportunities for fun. Put on your green and join us at some of these incredible events!
Looking for something that the whole family can do together for St. Patrick's Day? Check out the Holland St. Patrick's Day Parade! This parade takes place on March 11th at 12pm, and travels east down 8th Street from the 8th Street Marketplace to the Corner of 8th Street and College Avenue. Irish dancers, bag pipers, and kilt-wearers are a few of the highlights in the parade, and families wearing green are invited to carry Irish flags in the parade itself! We recommend checking out the Curragh Irish Pub after the parade to continue the celebration.
The St. Paddy's Leprechaun Chase 5k in Holland is another great event to participate in as an alternative to the boozy fun. This run takes place on March 12th right in downtown Holland, and participants are encouraged to wear green outfits or Irish costumes. Registration is only $35!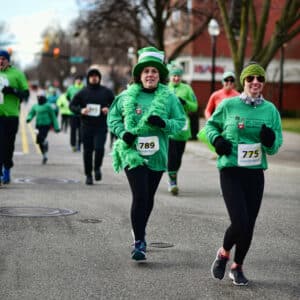 If you are looking to celebrate with lots of fun and booze, try out the Grand Rapids Official St. Patrick's Day Bar Crawl! This crawl takes place from 4pm to 10pm on March 17th.  They let you crawl at your own pace by providing you with a wristband and a digital map at the start, which is at Maggie's Tavern. That way, you and your friends can spend as much time at your favorite spots on the map. The list of bars is top secret, so sign up now to find out the hot spots!
Wanting to add a little class to your St. Paddy's celebration? Head over to IDC, the speakeasy located in the Amway Grand Plaza! On March 17th they'll be serving their Boozy Shamrock with other specialty cocktails as well as a Live DJ! With a private, covered, year-round balcony bar, IDC also has a perfect view of Monroe Avenue, so you will have a front row seat to a lot of the action!
After a 3 year hiatus, Irish on Ionia, Michigan's largest St. Patrick's Day street party, is back on March 18th! There will be drinks, food trucks, music, and lots of Irish fun! Entertainment includes street performers, Irish bands and dancers. This party stretches from Fulton to Oakes on Ionia Ave SW in the heart of downtown Grand Rapids, so this is one event you will not want to miss if you are a fan of St. Patrick's Day or the city!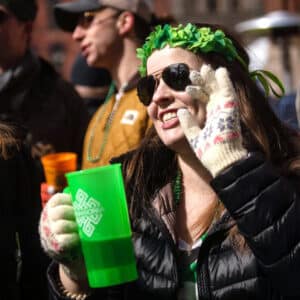 The recovery after a day like St. Patrick's Day is arguably as important as the holiday itself. On March 18th  Saugatuck Brewing Company has your back with their St. Patrick's Day celebration that starts with a breakfast buffet! You can enjoy all of your favorite breakfast foods alongside shepherd's pie, corned beef and cabbage, and chocolate stout brownies, as well as a beer or mimosa if you choose to get back on the horse!
No matter what your preference, there are so many things in West Michigan that you can do to celebrate St. Patrick's Day!
Looking for more things to do?
West Michigan has no shortage of St. Patrick's Day fun!