REALTORS
Host Better Open Houses for Free with Curb Hero
Realtors, we thought of you! Treadstone has invested in a tool to inspire better real estate marketing, and it's free for our agents to use. Introducing: Curb Hero!
Modernize Your Open Houses
Why should you care about Curb Hero? It increases leads and conversions. More leads and conversions means more business!
Curb Hero is an online software that lets you ditch the open house sign-in sheet, and replace it with a QR code paired with a sleek online portal. And it doesn't stop there—it also can send automated follow-up texts to those clients, import their information straight into your CRM, and it'll even generate a report with the contact information for everyone who came to your open house!
After signing in, clients can view your listing site and also check out what other homes you're selling. Curb Hero's open house experience also gives you the option to display your branding, along with your contact information on every listing you display with Curb Hero.
Hosting a sponsored open house? No problem! Give your partner agents the links and QR codes, and those leads come your way instantly, even if you're not there.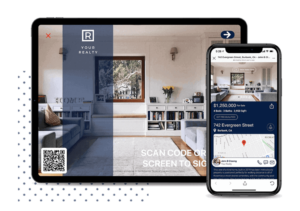 Curb Hero Features
QR CODES
For each listing you upload to Curb Hero, the app will generate a QR code for you to use and display at open houses. Print it out, post it at the entrance, or display it on a laptop. Just make sure it's prominently displayed!
ONLINE SIGN-IN PORTAL
The online portal is sleek, and will ensure you have the best first impression. The sign-in screen displays property information along with your branding, paired with an easy contact submission form.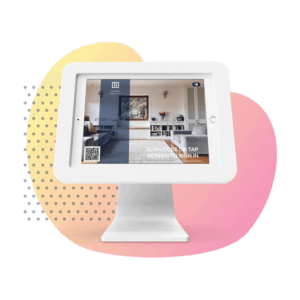 PROMOTE YOURSELF & NAIL THE FIRST IMPRESSION
With each listing you upload, it creates a single-property listing site specifically for you! Just like the open house web app, it displays all your contact information and branding. Post that link on social media, text it to clients, or generate a QR code! No matter how you distribute that link, your branding and contact information will follow.
SHARABLE URLS
Along with the QR code sign-in page, Curb Hero also generates a good looking listing page, with shareable links that you can post on social media. By including your link on your Instagram bio, you'll be set up to collect even more leads!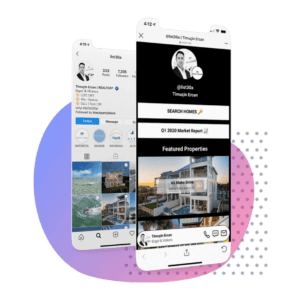 AUTOMATED FOLLOW-UPS
You call the shots here—in Curb Hero's web app, you can set up custom messages to go out to your open house visitors. They can be immediately delivered, or you can deliver messages on a delay.
Our favorite automated follow-ups follow this structure:
• Immediately: Thank client for coming to open house, and provide link to more listing details
• 3-4 hours later: Ask client if they have any questions, tell them to contact you (and provide contact information)
CONNECT WITH YOUR CRM
Another amazing feature? Curb Hero can integrate with many CRM systems through a Zapier integration. That includes LionDesk, Salesforce, Google Sheets, BoomTown, kvCORE, and over 2,000 other CRMs. That means
Ready to get started?
Download the app and sign up! Treadstone has sponsored accounts for any Realtor in Michigan! That means: it's free to sign up. Curb Hero also has an app for both  iOS/Android! You can set up open houses, share links, and upload photos to your listings.
Shoot us a message if you have any questions—we're here to help!
Curb Hero is the open-house tool you've been missing!