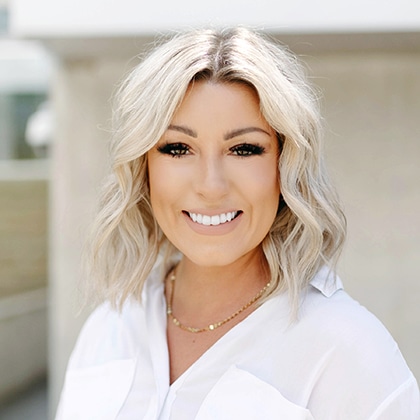 She has hiked a volcano in Costa Rica and would love to go back and explore more someday
She comes from a family of nine
Tacos are her love language. Especially authentic, homemade tacos
Kalah Stratton
Loan Officer
,
NMLS 1553379
Home is where the heart is—and no one understands that sentiment quite like Kalah Stratton. Helping people achieve their goals of homeownership is her passion. Growing up in a family of nine, Kalah's home was central to her family unit. It was where memories were made, and where she and her six siblings were able to grow, play, and thrive. Knowing how much the family home meant to her is what makes helping people purchase a home so rewarding for Kalah. It is truly what she loves to do.
When Kalah decided to enter the mortgage industry, she knew that she wanted to work with Treadstone because of their reputation within the local community. She worked as a licensed loan officer assistant at Treadstone for four years before transitioning to her current calling as an independent loan officer. With ample experience working under different loan officers, Kalah knows what it takes to provide exceptional service.
As a loan officer, Kalah prides herself on being personable and approachable. Well aware of the intimacy of the process, she ensures her clients feel comfortable, informed, and prioritized. Kalah is dedicated to making the home buying process as fun and stress-free as possible. When you call Kalah she won't stop at just taking your application, she takes the time to understand her clients' goals to find a tailored mortgage solution that will help them become successful homeowners now and in the future. Whether a client is curious about what monthly payment they can afford, or they have a unique job situation, Kalah has a deep passion to help them achieve their goals of homeownership on their terms—without the stress.
Having been with Treadstone for several years, Kalah can't imagine doing what she loves anywhere else. The culture of Treadstone provides Kalah with a space to do what she loves every day and have fun while doing it! She explains that at Treadstone "everyone is family. We laugh, problem-solve, share ideas, and learn together." The work-hard, play-hard mentality of the Treadstone crew is one of her favorite aspects of her role.
In her free time, Kalah enjoys feeling the burn at Fit Body Boot- camp, trying new yoga classes, and reading. She has quite a green thumb, so weather permitting, you can find her carefully tending to her garden. Kalah also enjoys traveling and experiencing new things with her husband, Brandon—they jump at any opportunity to explore. Whether it's a long weekend trip or a drive up North, The Strattons are always up for an adventure!
She has hiked a volcano in Costa Rica and would love to go back and explore more someday
She comes from a family of nine
Tacos are her love language. Especially authentic, homemade tacos