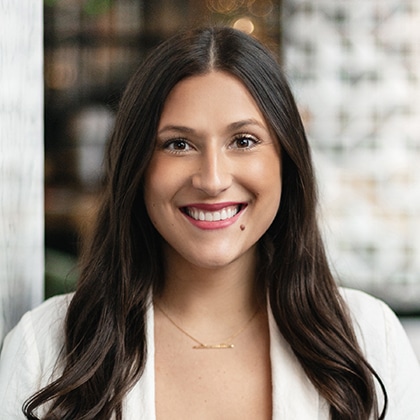 She always looks at the dessert menu first.
She has ran 2 half marathons.
Amy Trejo
Loan Officer
,
NMLS 859093
Growing up in a Hispanic household, Amy Trejo was taught from an early age that achieving the "American Dream" of homeownership was the greatest accomplishment of all. Homeownership was something that no one else in her family had realized yet. Her parents both worked multiple jobs with endless hours, just to be able to put some spare change in a coffee can. Seeing them struggle throughout her childhood motivated Amy to want to struggle less, and achieve more! To ensure this dream she decided to make finance her career.
On her 18th birthday, she walked into the bank, opened her own bank account, and applied for a job. Through the years she worked her way up the ranks, but always gravitated towards home financing. She saw firsthand, the hard work and dedication it required to make such a life-changing investment and knew she wanted to be that person to help make that dream a reality for others. Now, after 10 years in the finance and mortgage industry, she is living her dream as a Mortgage Loan Officer.
Amy has always been known for her ability to connect with people. Being an empath allows her to relate and, as a result, communicate effectively. She has an infectious energy and it brings out the best in those around her. Her clients will say that she has made a significant impact in their lives and  became a true friend.
When it comes to her work, Amy is known for her honesty and compassion. Her driving motivator is inspiring people to take the next step towards their life goals. "When we live inspired lives we often inspire those around us to reach and live their dreams."
Born and raised in sunny Southern California, Amy moved to Michigan in 2015. When asked why Michigan she responded, "I don't know, but what I do know is Michigan is now home." She is married to a United States Marine Corp Veteran and together they have two incredible daughters. Michigan summers are the Trejo's favorite time of year! During the summer, the only time you'll find them inside is to sleep. Family is everything to Amy.
She always looks at the dessert menu first.
She has ran 2 half marathons.