Grand Rapids Guide to Supporting Local Businesses this Holiday Season
Still have Holiday shopping to finish? Look no further than Grand Rapids' small businesses to find the perfect gifts for your holiday gifting.
This time of year is usually the busiest time for many beloved Grand Rapids businesses, and while it may be convenient to shop online, supporting local has never been more important. Plus, many of your favorite local shops are also offering ecommerce sales, so consider checking local first! By purchasing goods from a locally owned business, your money goes right back into the local economy. In addition there is something special about being in a locally owned, beautifully curated shop around the holidays.
Don't know where to start? We put together a list of some of our favorite Grand Rapids small businesses to help you round out your holiday gifting – happy shopping!
Gifts:
The best part about shopping local boutiques is that you can find gifts that you can't find anywhere else. Often, you come across the perfect gift that you never would have thought of while shopping online!
Mason Jones – home décor
From gorgeous home décor to apparel and jewelry, you can't wrong shopping at Mason Jones. Plus, they offer complimentary gift wrapping!
Roeda Studios – metal art magnets
This family owned business specializes in unique, handmade metal art magnets for just about any occasion or season you can think of! They also have tons of unique offerings in their boutique, so you might just be surprised with who you can check off your list by visiting their ecommerce site or their downtown store on Monroe Avenue.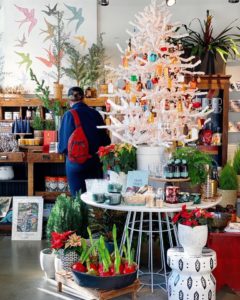 Rebel & Commune – modern gift shops
From the same owners, both Rebel GR and Commune are two must-shop boutiques for the holiday season. There is something for everyone on your list in these modern, eclectic gift shops located in Easttown.
For the gift that keeps on giving, consider purchasing a subscription box from Loie Apothecary. From skin care to aromatherapy, every month, your giftee will receive 4-6 natural beauty and wellness products delivered right to them.
What's better than finding new books in a traditional bookstore? Not much! One of Grand Rapids' finest, locally owned bookstores is a great place to shop for yourself or for the literature junkies in your life. Their selection of books is constantly changing and there are personal book reviews from the staff to help you decide. Be sure to check out their selection of children's books for the kiddos!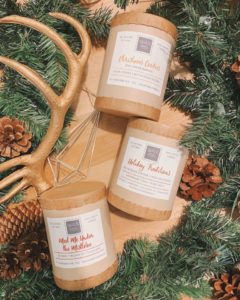 Whether you're looking for a gift or just need holiday candles for your home, Wax Poetic Bar in Easttown has a beautiful collection of candles and unique gifts. They have a selection of pre-made candles, and they offer a DIY Candle Making Kit which is such a cool gift idea! Grab a gift card so you and friends or loved ones can come back and try their custom candle making experience where you create your own candle.
Located in an old bank, The Counting House is the perfect mix between old and new. They have unique gifts, home décor, clothing, accessories, and beautifully curated antique pieces as well. Be sure to stop in or shop their online offerings this Holiday season!
For the person who doesn't know how to relax, grab a Wanderlux Salon and Spa gift card. They offer everything from massages, to facials, and they even have sauna, so you really can't go wrong here. Let's be real: we all need a little R&R after the holidays, so get yourself one too!
Food/Drinks:
This specialty grocer and pasta company specializes in hand-made pastas made with locally sourced organic products and ingredients. For a great gift for the cooks (or wannabe cooks) in your life, look no further than the Local Epicurean. Put together a one-of-a-kind gift basket with some of their specialty cooking ingredients or consider purchasing a Class Gift Certificate! They offer wonderful cooking classes where you can try your hand at cooking pasta from scratch.
While you're at it, pick up some of their fresh-market meals to-go! Too busy to cook but craving a homemade meal? Order a few meals to get you through the week. All you have to do is pop them in the oven—don't forget the wine to go with your pasta!
Still need the perfect wines for your holiday dinner? What's a better go-to gift than a unique bottle of liquor or wine? Martha's has you covered! Stop by for great advice and excellent customer service on all your libation needs.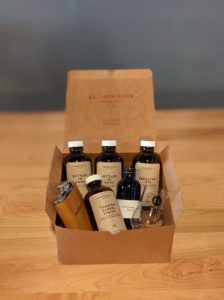 In addition to to-go cocktails and cocktail kits, Eastern Kille is offering several types of Whiskey Lover's Gift Boxes! Gift boxes include their delicious old fashioned "sauce" for easy to make cocktails at home, a flask and tasting glass. Order online and pick up at your convenience. Whether you are craving craft cocktails or want to give them as a gift, Eastern Kille makes it easy to enjoy!
While you're out and about shopping, don't forget to stop for coffee! This eclectic, independently owned coffee shop is offering online pre-ordering in addition to in-store ordering. While you're there, consider picking up a 'Roots at Home Holiday Bundle' or a gift card for the coffee connoisseur in your life. The holiday bundle includes a Roots Brew Shop mug, a custom Roots candle made by Wax Poetic, and a 4-count of steeped coffee.
For stocking stuffers, goodie bags, or the popcorn lover in your life, check out Mosby's Popcorn. Located Downtown Grand Rapids on Ionia, the Mosby family has been popping corn in West Michigan for 17 years. They offer specialty popcorn flavors from Salted Carmel to Buffalo Ranch and everything in between! You can purchase it online or in-store, and they offer in-store pick-up and delivery.
For the chocolate lover look no further than Mokaya Chocolate. Mokaya's father-son duo specializes in hand-crafted chocolate and desserts. For some truly unique (and delicious!) chocolate, check out what they have to offer. From stocking stuffers to Holiday treats for Christmas Eve dinner, you can never go wrong with a little chocolate. They currently offer curbside pickup as well as delivery.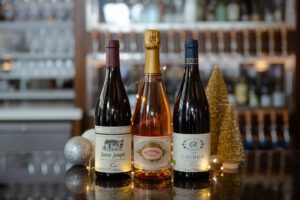 After a long day of shopping, who doesn't need a little sustenance?! Treat yourself to some to-go food from one of Grand Rapids's many local restaurants to enjoy in the comfort of your home. Many restaurants have winterized their outdoor spaces to support outdoor Winter dining! Try to reserve a space at one of these restaurants:
Looking for a fresh holiday arrangement to spruce up your home for the holidays?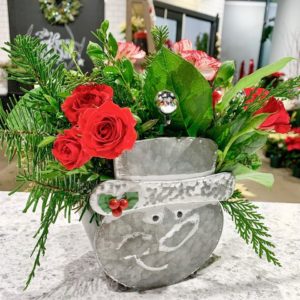 Kennedy's  Flowers & Gifts and Thelma's Flower's in the Wealthy St. Business district are two locally owned flower shops that we absolutely love. Whether you want to gift flowers or get them for yourself, you can't go wrong with something from one of these flower shops.
Gift cards!  Don't want to shop? Support any of these (and more) local businesses by purchasing a gift card to give as a gift!
We put together a list of some of our favorite Grand Rapids small businesses to help you with your holiday gifting!