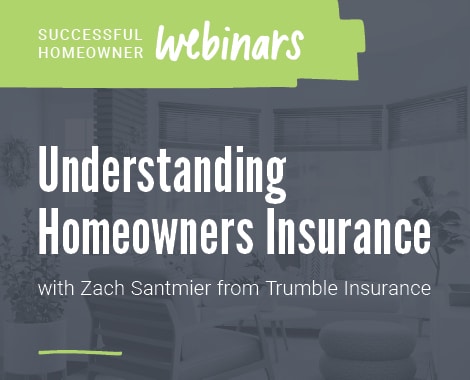 Understanding Homeowners Insurance Webinar
Date
Wednesday, September 29, 2021
A lot goes into getting a mortgage! One item that all homeowners have that not everybody understands, is homeowners insurance. Often cheaper than car insurance, questions around homeowners insurance often baffles both new and experienced home owners alike. At Treadstone we know that an educated homeowner is an empowered and successful homeowner, so we are bringing you both a friend and trusted advisor, Zach Santmier from Trumble Insurance, to explain the ins and outs of homeowners insurance. In this information packed 45 minute Zoom we will cover a range of popular topics such as:
What home features make insurance rates go up?
What is a flood zone, and do I want to avoid them when buying?
How does having the right insurance help me grow my wealth?
Can I simplify and save on insurance if I have multiple properties?
What are the top claims, and how do I avoid these common issues?
How does home maintenance correlate to claims, and thus policy premiums?
How do I know if I have the right coverage?
My home went up a lot in value recently, am I still covered?
What doesn't my homeowners policy cover?