COMMUNITY
26 Things To Do in Grand Rapids This Summer
Summer's in full swing, and the number of festivals, concerts, classes and other fun activities to check out is always growing in Grand Rapids! Grab your calendar and buckle up — here are twenty-six of the coolest Grand Rapids happenings to keep on your radar for the rest of this summer.
Table of Contents
Pop-Ups & Festivals
Love Where You Live Community Festival
A full day of music, fun, art, and food that is accessible and affordable for all! This festival features live sets from the Detroit Youth Choir, Ain't Afraid, and more Michigan-made artists on the rise. And all for a good cause! A portion of proceeds this event brings in is given to a local nonprofit or social initiative that impacts underserved populations.
Details + Dates:
Free General Admission
VIP tickets available – $50
Saturday, July 22
12:00pm–11:00pm
Come down to Speciation Cellars for a Taco Rave: Tacos by Basalt, with techno beats and immersive projections by Command Prompt! This pop-up is sure to entertain the ears, eyes, and of course, taste buds.
Details + Dates:
Free admission
Saturday, July 22nd
5:00pm–10:00pm
Global Water Festival at Canal Park
This festival showcases how cultures around the world celebrate the water and its centrality to life. Enjoy a global variety of food vendors, artisan booths, live music and more! The highlight of the day is a traditional Chinese Dragon Boat Race, featuring 20-person teams racing against each other on the Grand River.
Details + Dates:
Free admission
July 29–30
8:00am–7:00pm
Fun for all ages!
Summer Rummage Sale at the Farmer's Market
Search for new-to-you finds from dozens of community members and vintage sellers at Fulton Street Market. One day only!
Details + Dates:
Free admission
Sunday Jul 30
11:00am–3:00pm
Cash may come in handy!
Grand Rapids Hispanic Festival
Come on down to Calder Plaza and celebrate the Latinx culture with authentic food, music, dancing, and fun! The Hispanic Festival is a tradition in Grand Rapids loved by all ages – this year marks the 45th anniversary!
Details + Dates:
Free admission
August 4: 5:00pm–11:45pm
August 5: 12:30pm–11:30pm
August 6: 11am–5:00pm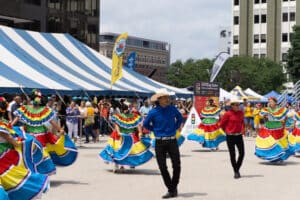 Explore the vibrant diversity of Africana through food, fashion, art, music, dance, and more at West Michigan's largest African cultural event! Featuring entertainment by local African talent, an art & merch market, hair braiding, henna tattoos, headwrap tutorials, games, and more.
Details + Dates:
Free admission
Calder Plaza
August 12: 10:30am–10:00pm
August 13: 10:30am–5:30pm
Grand River Historical Walking Tours
Our city's namesake Rapids disappeared from the Grand River the later part of the 1800s – but last year, work began to restore the natural rapids. Get the scoop on our river, its rich history, and the restoration work in progress on this guided walking tour, spanning about 1 mile!
Details + Dates:
Free admission
August 13–15
6:00pm–7:30pm
Rain or shine!
Grab a bite, a pint, and a laugh on the patio at Fulton Street Pub! Featuring a lineup of seven local comics, hosted by the one and only Trebuchet. Seating is a first come, first served deal, so be there a little before showtime!
Details + Dates:
Free admission
Friday, August 18
6:30pm–9:00pm
Cash tips encouraged
Returning for the 6th year, Breakaway will be bringing some big-name artists (like DeadMau5 and Tiësto) to Grand Rapids this August! General admission tickets will include access to all main stage events, a silent disco, local food trucks and vendors, as well as assorted activities!
Details + Dates:
Tickets needed
August 18–19
Belknap Park
Experience the diversity of dance as art, as Grand Rapids Ballet and other local dance groups representing a multitude of genres perform in a festive atmosphere, complete with complimentary food trucks, beer, and wine! Guests are invited to bring their own seating for the full sit back, relax and enjoy experience.
Details + Dates:
Free admission
August 25–26
Starts at 5:00pm
It's back and bigger than ever — this year with two full days of fun! Interactive art installations, live performers, an artisan market, food trucks, body painting, and even more unique surprises will dot the riverwalk for folks of all ages to enjoy.
Details + Dates:
Free Admission
August 26: 12:00pm–11:00pm
August 27: 12:00pm–10:00pm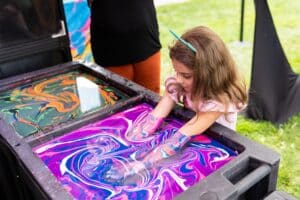 Summer Series
Wind down your weekend with a beer and some easy breezy tunes at Switchback! Music is on the patio when the weather's nice; if not, the show goes on indoors.
Details + Dates:
Sundays
4:00pm–7:00pm
Free admission
Slow Flow Yoga at Lookout Park
Stretch, strengthen, and recharge with a slow-paced yoga session while overlooking Grand Rapids! These sessions are perfect for beginners but welcome to all skill levels.
Details + Dates:
Tuesdays
7:00om–7:45pm
Until August 29
Free, no registration
Pub Trivia at Broad Leaf Brewery & Spirits
Ready to test your knowledge? Check out Trivia Nights at Broadleaf Brewery! This is a two hour, 60-question battle of wits, hosted by Geeks Who Drink. Bring your own team or join one at the bar to make some new friends. Winning team will receive a $25 gift card!
Details + Dates:
Tuesdays
7:00pm–9:00pm
Free to play
Ballroom Dancing Lessons on the Blue Bridge
Take a new spin on date night with this beginner class in ballroom dancing! Learn the Salsa, Cha Cha, Tango, and more on the most iconic bridge in town.
Details + Dates:
Wednesdays
7:00–7:45pm
Free, no registration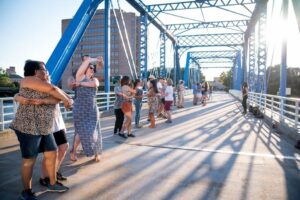 Guided Kayak Adventures at Riverside Park
Whether you're a beginner or highly experienced kayaker, these guided adventures down the Grand River are a great way to soak in the scenery (and some sun) while getting some exercise! Each trip is around 2 hours.
Details + Dates:
Wednesdays, Saturdays & Sundays
$30 for residents, $40 for non-residents
ages 15+ for Kayaking 101 & 201
ages 10+ for family rides
This lunchtime entertainment series aims to gives workers the opportunity to step away from their desks, get out of the office, and enjoy the benefits of working in a vibrant Downtown. This event series boasts a diverse lineup of local bands, a variety of food trucks, and oversized lawn games!
Details + Dates:
Thursdays
12:00pm–1:30pm
Until Sept 28
Free admission
Dogs welcome!
Using lightly weighted drumsticks, POUND transforms drumming into a creative workout combining cardio and strength training with yoga and Pilates-inspired movements. These sessions are welcome to all fitness levels, so let loose and make some music!
Details + Dates:
Thursdays
5:30pm–6:15pm
Until August 17
Free, no registration required
Get your dancing shoes on and join in on Zumba at Roosevelt Park! Zumba is a high-energy dance fitness that incorporates Latin and international music.
Details + Dates:
Fridays
6:15pm–7:00pm
Until September 1
Free, no registration required
All fitness levels welcome
Sip, shop, and stroll through the city! Third Thursdays is a multi-venue event that highlights locally owned galleries, specialty retail spaces, boutiques, restaurants, and cultural institutions. Participating businesses offer mini-events, discounts, and promotions!
Details + Dates:
3rd Thursday monthly
5:00pm–9:00pm
Free to attend
Happens year-round!
Asher Legacy Group presents this free summer jazz series, showcasing a different style each week! There will be a flavor of jazz for everyone to enjoy, from smooth to funky to gospel. Vibe out with local jazz artists at some of the city's signature outdoor venues, rotating between Rosa Parks Circle, Calder Plaza, and the Blue Bridge. There will be food trucks and vendors selling refreshments, so bring your wallet and an appetite!
Details + Dates:
Thursdays
7:00pm
Until August 31
Free admission
Vinyl Night at Harmony Brewing Company
There's nothing like the sound of music from vinyl! Sit back and relax while local artists, tastemakers, and DJs take over the sound system and play some of their favorite records. It's a quintessential Grand Rapids event for beer lovers and audiophiles alike!
Details + Dates:
Thursdays
8:00–10:00pm
Free admission
Food Truck Fridays at Riverside Park
Grab some fresh air and tasty food from a selection of food trucks! With over a dozen trucks serving every cuisine from American soul food to Swahili-TexMex fusion, everyone can find something they'll savor. Bring your lawn chairs or blankets to hang out by the river and enjoy the beautiful summer weather.
Details + Dates:
Fridays
5:00–9:00pm
Until September 2
No entry fee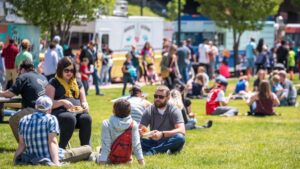 Stop by the Grand Rapids Art Museum and get your creative juices flowing! Through the month of July, you can create your own one-of-a-kind multimedia landscape – using plastic bags, bottlecaps, cardboard and more repurposed materials. Then add painted details with acrylic paint to bring your scene to life! In August, drop in to the Cyanotype workshop.
Details + Dates:
Saturdays
1:00pm–4:00pm
Free (with admission)
The Fulton Street Farmers Market hosts an amazing assortment of fruits, vegetables, meats, dairy, hand-crafted food items, and unique artisan products!
Details + Dates:
Wednesdays, Fridays & Saturdays
8:00am–2:00pm
Until October 28
Free to attend
Grand Rapids Public Libraries is offering outdoor story times at various locations and parks throughout the city over the summer!
Details + Dates:
Monday–Thursdays
Mornings and evenings
Free
Fredrik Meijer Garden Summer Activities
With different events every day that range from outdoor artist studios to musical jam sessions, there's never a dull moment at The Children's Garden!
Details + Dates:
Daily
Varying times
Free (with admission)
Looking for more things to do?
get ready for a summer filled with fun activities